Publication:
Daily ingestion of Akkermansia mucciniphila for one month promotes healthy aging and increases lifespan in old female mice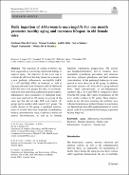 Advisors (or tutors)
Editors
Abstract
The ingestion of certain probiotics has been suggested as a promising nutritional strategy to improve aging. The objective of this work was to evaluate the effects of the daily intake, for a month, of a new probiotic Akkermansia muciniphila (AKK) (2 × 108 cfu/100µL PBS) on behavior, as well as function and redox state of immune cells of old female ICR-CD1 mice (OA group). For this, several behavioral tests were performed, and function and oxidative-inflammatory stress parameters of peritoneal leukocytes were analyzed in OA group, in a group of the same age that did not take AKK (old control, OC group) and in another adult control (AC) group. The results showed, in OA group, a significant improvement of several behavioral responses (coordination, balance, neuromuscular vigor, exploratory ability and anxiety like-behaviors), as well as in immune functions (chemotaxis, phagocytosis, NK activity and lymphoproliferation) and in oxidative stress parameters (glutathione peroxidase and reductase activities, oxidized glutathione and lipid oxidation concentrations) of the peritoneal leukocytes in comparison to those observed in OC group. In addition, peritoneal immune cells from the OA group released lower basal concentrations of pro-inflammatory cytokines (IL-2, IL-6 and TNF-α) compared to those from the OC group. The values of parameters in OA were similar to those in AC group. These improvements in the old mice receiving the probiotic were reflected in an increase in their lifespan. In conclusion, our data indicate that AKK supplementation for a short period could be a good nutritional strategy to promote healthy longevity.
El estudio supone un avance relevante en el conocimiento del papel que los microorganismos probióticos pueden tener en el envejecimiento. En este trabajo se ha demostrado que la ingesta diaria durante un mes de un probiótico de nueva generación (Akkermansia muciniphila CIP107961) mejora, en ratones viejos, toda una serie de respuestas conductuales y de funciones inmunitarias que se encuentran deterioradas al envejecer. Además, se observó una disminución de la inflamación y oxidación que se dan en el envejecimiento. La ingestión de A. muciniphila consiguió que los parámetros estudiados en los animales viejos tuviesen valores similares a los de los ratones adultos. Este "rejuvenecimiento" dio como resultado un mejor estado de salud que se manifestó con un significativo aumento en la longevidad de estos animales. Los resultados obtenidos indican el potencial de A. muciniphila para el desarrollo de estrategias nutricionales dirigidas a la prevención del deterioro fisiológico asociado al envejecimiento, y la consecuente obtención de una longevidad saludable.
Collections