Publication:
Parámetros clínicos de chimpancé ("Pan troglodytes") en programas de rehabilitación y reintroducción en su medio natural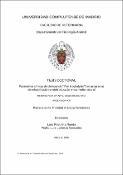 Files
Advisors (or tutors)
Editors
Publisher
Universidad Complutense de Madrid
Abstract
Genéticamente, los chimpancés y los bonobos son los parientes vivos más cercanos a los seres humanos, que comparten un ancestro común que vivió hace unos seis millones de años. Los chimpancés se consideran en peligro de extinción por la IUCN y numerosos programas de conservación en África trabajan hacia la protección de la especie y su hábitat. Amenazado por la caza furtiva y la destrucción del hábitat, las cifras de población de chimpancés salvajes siguen disminuyendo. Como consecuencia, un importante flujo de chimpancés en vivo que son víctimas de la caza furtiva son enviados a centros de rehabilitación en África donde viven en semilibertad y en ocasiones son reintroducidos en el medio natural. Un objetivo primordial en estos centros de rescate y rehabilitación es proporcionar a los primates en cautividad con altos estándares de bienestar. La realización de tratamientos médicos adecuados y una gestión cuidadosa contribuye a su buen estado de salud, que a su vez permite a estos centros para garantizar el bienestar óptimo chimpancé. A un nivel veterinaria, la implementación de un tratamiento rápido y efectivo para una enfermedad requiere las herramientas de diagnóstico adecuadas, así como los valores de referencia correctos correspondientes a la especie. El objetivo de la presente tesis es establecer rangos de referencia de los diferentes parámetros clínicos para el chimpancé común (Pan troglodytes), que viven en semi-libertad en su hábitat natural. A fin de establecer valores de referencia, hemos utilizado los datos obtenidos durante los controles de rutina del brezo en chimpancés realizados durante diez años, en Tchimpounga Centro de Rehabilitación de chimpancé. Todos los chimpancés en el Centro de Rehabilitación Tchimpounga someten a controles de salud a su llegada al centro y en adelante cada tres años. Los análisis se llevan a cabo para asegurar la buena salud de la comunidad, y mejorar el control de la transmisión de enfermedades infecciosas, como la tuberculosis. Los análisis incluyen la recogida de sangre de la muestra, electrocardiogramas, radiografías de tórax, ecografía abdominal y pruebas serológicas y bacteriológicas. Estos análisis requieren la inmovilización química del individuo. A su vez, otros controles de salud que no requieren inmovilización química se realizan a diario en el centro por personal cualificado. Estos incluyen el análisis de las heces y la orina, y la exploración física general. La exploración global incluye tomar la temperatura corporal diaria de los chimpancés menores de 10 años en virtud de condicionamiento positivo...
Genetically, chimpanzees and bonobos are the closest living relatives to humans, sharing a common ancestor that lived about six million years ago. Chimpanzees are considered endangered by the IUCN and numerous conservation programs in Africa work towards the protection the species and its habitat. Threatened by poaching and habitat destruction, population numbers of wild chimpanzees continue to decrease. As a consequence, a significant flow of live chimpanzees who are victims of illegal poaching are sent to rehabilitation centers in Africa where they live in semi freedom and are occasionally reintroduced into the wild. A primary objective in these rescue and rehabilitation centers is to provide the captive primates with high standards of welfare. Conducting adequate medical treatments and careful management contributes to their good health, which in turn enables these centers to guarantee optimal chimpanzee welfare. At a veterinary level, implementation of a rapid and effective treatment for a disease requires the right diagnostic tools as well as the correct reference values relevant to the species. The aim of the present thesis is to establish reference ranges of different clinical parameters for the common chimpanzee (Pan troglodytes), living in semi-freedom at their natural habitat. In order to establish reference ranges, we have used data obtained during routine heath checks on chimpanzees conducted over ten years in Tchimpounga Chimpanzee Rehabilitation Centre. All chimpanzees at Tchimpounga Rehabilitation Centre undergo health checks upon arrival at the center and henceforth every three years. Analyses are performed to ensure the good health of the community, and enhance control of the transmission of infectious diseases such as tuberculosis. Analyses include blood sample collection, electrocardiograms, thorax X- rays, abdominal ultrasound and serological and bacteriological tests. These analyses require chemical immobilization of the individual. In turn, other health checks that do not require chemical immobilization are performed daily in the center by qualified personnel. These include analysis of feces and urine, and general physical exploration. The overall exploration includes taking the daily body temperature of chimpanzees under 10 years by virtue of positive conditioning...
Description
Tesis inédita de la Universidad Complutense de Madrid, Facultad de Veterinaria, Departamento de Fisiología Animal, leída el 19/01/2016
Collections