Publication:
La danza en época romana: una aproximación filológica y lingüística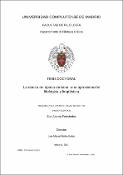 Files
Authors
Advisors (or tutors)
Editors
Publisher
Universidad Complutense de Madrid, Servicio de Publicaciones
Abstract
Esta tesis ofrece un completo panorama de la danza en época romana desde el período republicano hasta el s. IV d. C. Considerando la danza como agente y proceso cultural, y no como una realidad aislada, se pretende esclarecer el puesto de esta disciplina en la sociedad romana y la verdadera opinión que los latinos tenían de ella. En su propuesta lingüística y filológica, el estudio parte de un detallado examen de los términos que componen el campo semántico de la danza en latín (salto, saltatio, saltator, chorus, tripudio, ludo, moueo, etc.). El análisis de este vocabulario proporciona importantes datos sobre la idea latina de la danza y su definición. Al mismo tiempo, sirve de guía para organizar el resto de los contenidos tratados en la tesis. Sobre esta base se exponen y comentan las distintas danzas del mundo romano, organizadas de forma continua y circular, según sus principales contextos de ejecución (religión y espectáculo). En estos capítulos centrales, se analizan todos los géneros y variedades de danza conocidos en Roma, haciendo especial hincapié en las distintas funciones de cada uno, así como su vinculación a determinadas circunstancias históricas y culturales. Finalmente, la tesis concluye con un análisis de las opiniones y juicios morales que la práctica del baile suscitó entre los propios latinos, muchas veces lugares comunes que precisan ser revisados. Una treintena de imágenes, dos glosarios de términos especializados y un apéndice textual completan la información proporcionada en el cuerpo de la tesis. Se añade, además, un índice de pasajes citados. [ABSTRACT]The main purpose of this thesis is to offer a complete view of the dance in Roman times, from the Republican period to the 4th century A.D., approximately. So far, there are no comprehensive studies about Roman dancing from a general perspective, an important gap that contrasts with the manifold researches developed until the date for the Greek framework. As a linguistic and philological approach, our work analyses, 4rst, the most common terms belonging to the semantic 4eld of dancing in Latin (salto, saltatio, saltator, chorus, tripudio, ludo, etc.), in order to study, in a proper way, all the ancient texts containing information about the topic and making up the corpus that figures as the Appendix III of this volume. Opposed to an external definition of "dance", the analysis of this vocabulary provides, on the one hand, important information about the Roman idea of dance and, on the other, it involves a clear guide to organise the contents of the thesis.
Description
Tesis de la Universidad Complutense de Madrid, Facultad de Filología, Departamento de Filología Clásica, leída el 23-09-2011
Collections