Publication:
Inequality and poverty in the European Union: In search of lost dynamics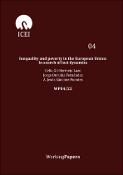 Authors
Sánchez-Fuentes, A. Jesús
Advisors (or tutors)
Editors
Publisher
Instituto Complutense de Estudios Internacionales (ICEI)
Abstract
This paper analyses the relationships between income inequality, monetary poverty and economic growth for a sample of 30 European economies over the period 2004-2020. To do so, we adopt a novel approach, based on a dynamic analysis that takes into account the variability that can occur in the evolution of these relationships over the period analysed. The proposed panel-VAR model allows us to perform a Granger causality analysis between the variables mentioned. In a second stage, we complete this analysis with the application of the iterative PC algorithm that allows us to interpret the results of the model by defining the corresponding causal graphs. For the empirical analysis we use micro-data from the EU-SILC database for the period 2004-2020. The results obtained show that, for the set of economies analysed, inequality has a positive effect on poverty. Moreover, we also find that this dynamic is reversed, with a double positive causality between these variables. In addition, we do not find evidence of a poverty or inequality reducing effect of economic growth. However, we find that these results differ across countries, depending on the type of welfare state in place.
Citation
Adams Jr, R. H. (2004). Economic growth, inequality and poverty: estimating the growth elasticity of poverty. World development, 32(12), 1989-2014. Alesina, A., and Rodrik, D. (1994). Distributive politics and economic growth. The Quarterly Journal of economics, 109(2), 465-490. Atkinson, A. B. and Brandolini, A. (2001). Promise and pitfalls in the use of "secondary" data-sets: Income inequality in OECD countries as a case study. Journal of Economic Literature, 39(3), 771-799. Banarjee, A. (2000). The Two Poverties. Nordic Journal of Political Economy, 26, 129-141. Banerjee, A. and Newman, A. F. (1993). Occupational choice and the process of development. The Journal of Political Economy, 101(2), 274-298. Banerjee, A., and Duflo, E. (2003). Inequality and growth: What can the data say? Journal of Economic Growth, 8(3), 267-299. 10.3386/w7793 Banerjee, A., and Mullainathan, S. (2010). The shape of temptation: Implications for the economic lives of the poor (No. w15973). National Bureau of Economic Research. Barro, R. J. (2000). Inequality and Growth in a Panel of Countries. Journal of Economic Growth, 5(1), 5-32. Bergstrom, K. (2020). The Role of Inequality for Poverty Reduction. (Policy Research Working Paper;No. 9409). World Bank. 10.1596/1813-9450-9409 Bertola, G. (1993) Factor shares and savings in endogenous growth. American Economic Review 83(5), 1184-1198. Bluhm, R., de Crombrugghe, D. and Szirmai, A. (2018). Poverty accounting. European Economic Review, 104, 237-255. https://doi.org/10.1016/j.euroecorev.2018.03.003 Bourguignon, F. (1981). Pareto superiority of unegalitarian equilibria in Stiglitz'model of wealth distribution with convex saving function. Econometrica: Journal of the Econometric Society, 49(6), 1469-1475. https://doi.org/1911412 Castelló-Climent, A. (2010). Inequality and growth in advanced economies: An empirical investigation. Journal of Economic Inequality, 8(3), 293-321. 10.1007/s10888-010-9133-4 Cerra, V., Lama, R. and Loayza, N. (2021). Links between growth, inequality, and poverty: a survey. (Policy research working paper 9603.) World Bank Group Cingano, F. (2014). Trends in Income Inequality and its Impact on Economic Growth, OECD Social, Employment and Migration Working Papers, No. 163, https://doi.org/10.1787/5jxrjncwxv6j-en. Colombo, D. and Maathuis, M. H. (2014). Order-independent constraint-based causal structure learning. J. Mach. Learn. Res., 15(1), 3741-3782 Dasgupta, P. and Ray, D. (1986). Inequality as a determinant of malnutrition and unemployment: Theory. The Economic Journal , 96(384), 1011-1034. 10.2307/2233171 David, F. (1949). The moments of the z and F distributions. Biometrika, 36(3), 394–403. Deininger, K. and Squire, L. (1996). A new data set measuring income inequality. The World Bank Economic Review, 10(3), 565-591. 10.1093/wber/10.3.565 Deininger, K. and Squire, L. (1998). New ways of looking at old issues: inequality and growth. Journal of Development Economics, 57(2), 259-287. Demiralp, S. and Hoover, K. D. (2003). Searching for the causal structure of a vector autoregression. Oxford Bulletin of Economics and Statistics, 65(s1), 745-767. 10.1046/j.0305-9049.2003.00087.x Dollar, D. and Kraay, A. (2002). Growth is Good for the Poor. Journal of Economic Growth, 7(3), 195-225. Dollar, D., Kleineberg, T. and Kraay, A. (2016). Growth still is good for the poor. European Economic Review, 81, 68-85. 10.1016/j.euroecorev.2015.05.008 Eichler, M. (2007). Granger causality and path diagrams for multivariate time series. Journal of Econometrics, 137(2), 334-353. 10.1016/j.jeconom.2005.06.032 Emirmahmutoglu, F. and Kose, N. (2011). Testing for granger causality in heterogeneous mixed panels. Economic Modelling, 28(3), 870-876. 10.1016/j.econmod.2010.10.018 Esping-Andersen, G. (1990). The three worlds of welfare capitalism. Princeton University Press. Fenger, M. (2007). Welfare regimes in Central and Eastern Europe: Incorporating post-communist countries in a welfare regime typology. Contemporary Issues and Ideas in Social Sciences, 3(2), 1-30. Ferreira, F. H. G., Leite, P. G. and Ravallion, M. (2010). Poverty reduction without economic growth? Journal of Development Economics, 93(1), 20-36. 10.1016/j.jdeveco.2009.06.001 Ferrera, M. (1996). The "Southern Model" of Welfare in Social Europe. Journal of European Social Policy, 6(1), 17–37. https://doi.org/10.1177/095892879600600102 Foellmi, R. and Zweimüller, J. (2006). Income distribution and demand-induced innovations. The Review of Economic Studies, 73(4), 941-960. 10.1111/j.1467-937X.2006.00403.x Forbes, K. (2000). A reassessment of the relationship between inequality and growth. The American Economic Review, 90(4), 869-887. Fosu, A. K. (2017). Growth, inequality, and poverty reduction in developing countries: Recent global evidence. Research in Economics, 71(2), 306-336. doi:10.1016/j.rie.2016.05.005 Galor, O. and Moav, O. (2004). From physical to human capital accumulation: Inequality and the process of development. The Review of Economic Studies, 71(4), 1001-1026. Galor, O. and Zeira, J. (1993). Income distribution and macroeconomics. The Review of Economic Studies, 60(1), 35-52. Goerlich. F. J. (2016). Distribución de la renta, crisis económica y políticas redistributivas. Fundacion BBVA. Granger, C. W. J. (1969). Investigating causal relations by econometric models and cross-spectral methods. Econometrica, 37(3), 424-438. 10.2307/1912791 Halter, D., Oechslin, M. C. and Zweimüller, J. (2014). Inequality and growth: The neglected time dimension. Journal of Economic Growth, 19(1), 81-104. doi:10.1007/s10887-013-9099-8 Hurlin, C. and Venet, B. (2001). Granger causality tests in panel data models with fixed coefficients. Cahier de Recherche EURISCO, September, Université Paris IX Dauphine. Kakwani, N. and Pernia, E. M. (2000). What is pro-poor growth?. Asian Development Review, 18(1), 1-16. Kaldor, N. (1955). Alternative theories of distribution. The Review of Economic Studies, 23(2), 83-100. https://doi.org/2296292 Kraay, A. (2015). Weak instruments in growth regressions: implications for recent cross-country evidence on inequality and growth. (Working Paper 7494) World Bank Policy Research. 10.1596/1813-9450-7494 Kraay, A. and McKenzie, D. (2014). Do poverty traps exist? Assessing the evidence. The Journal of Economic Perspectives, 28(3), 127-148. 10.1257/jep.28.3.127 Lauritzen, S. L. and Richardson, T. S. (2002). Chain graph models and their causal interpretations. Journal of the Royal Statistical Society. Series B, Statistical Methodology, 64(3), 321-348. 10.1111/1467-9868.00340 Lazear, E. and Rosen, S. (1981). Rank-order tournaments as Optimum Labor contracts. The Journal of Political Economy, 89(5), 841-864. Le, T. D., Hoang, T., Li, J., Liu, L., Liu, H. and Hu, S. (2016). A fast PC algorithm for high dimensional causal discovery with multi-core PCs. IEEE/ACM Transactions on Computational Biology and Bioinformatics, 16(5), 1483-1495. Li, H. and Zou, H. (1998). Income inequality is not harmful for growth: Theory and evidence. Review of Development Economics, 2(3), 318-334. 10.1111/1467-9361.00045 Loayza, N. V. and Raddatz, C. (2010). The composition of growth matters for poverty alleviation. Journal of Development Economics, 93(1), 137-151 Marrero, G. A. and Servén, L. (2021). Growth, inequality and poverty: A robust relationship? Empirical Economics, 1-67. 10.1007/s00181-021-02152-x Muñoz de Bustillo, R. (2019). Mitos y realidades del Estado de Bienestar. Alianza Editorial, Madrid Okun, A. M. (1975). Equality and efficiency: The big tradeoff. Brookings Institution Press. Perotti, R. (1996). Growth, income distribution, and democracy: What the data say. Journal of Economic Growth. 1(2), 149-187. 10.1007/BF00138861 Persson, T. and Tabellini, G. E. (1994). Is inequality harmful for growth?. The American Economic Review, 84(3), 600-621. Ravallion, M. (2004b). Pro-poor growth: A primer. (World Bank Policy Research Working Paper 3242). World Bank. Ravallion, M. and Chen, S. (1997). What can new survey data tell us about recent changes in distribution and poverty?. The World Bank Economic Review, 11(2), 357-382. Shah, A. K., Mullainathan, S. and Shafir, E. (2012). Some consequences of having too little. Science, 338(6107), 682-685. Spirtes, P., Glymour, C. N., Scheines, R. and Heckerman, D. (2000). Causation, Prediction, and Search. MIT press. Voitchovsky, S. (2005). Does the profile of income inequality matter for economic growth?: Distinguishing between the effects of inequality in different parts of the incomE distribution. Journal of Economic Growth. 10(3), 273-296. 10.1007/s10887-005-3535-3