Publication:
Wavefront-sensor tomography for measuring spatial coherence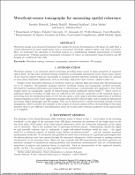 Advisors (or tutors)
Editors
Publisher
Society of Photo-optical Instrumentation Engineers (SPIE)
Abstract
Wavefront sensing is an advanced technology that enables the precise determination of the phase of a light field, a critical information for many applications, such as noncontact metrology, adaptive optics, and vision correction. Here, we reinterpret the operation of wavefront sensors as a simultaneous unsharp measurement of position and momentum. Utilizing quantum tomography techniques we report an experimental characterization and 3D imaging of a multimode laser light.
Description
© 2015 SPIE. This work is co-financed by the European Social Fund and the state budget of the Czech Republic, project No.CZ.1.07/2.3.00/30.0041 (POST-UP II), and supported by the Grant Agency of the Czech Republic, Grant No. 15-031945.
Citation
[1] Platt, B. C. and Shack, R. S., \History and principles of Shack-Hartmann wavefront sensing," J. Refract. Surg. 17, S573-S577 (2001). [2] Hradil, Z., Rehacek, J. and Sánchez-Soto, L. L., \Quantum Reconstruction of the Mutual Coherence Func-tion," Phys. Rev. Lett. 105, 010401 (2010). [3] Waller, L., Situ, G. and Fleischer, J. W., \Phase-space measurement and coherence synthesis of optical beams," Nature Photonics 6, 474 (2012). [4] Goodman, J. W., [Introduction to Fourier Optics], Roberts Publishers, Colorado (2005). [5] Goodman, J. W., [Statistical Optics], Wiley-Interscience, New York (2000). [6] Stoklasa, B., Motka, L., Rehacek, J., Hradil, Z. and Sánchez-Soto, L. L., \Wavefront sensing reveals optical coherence," Nat. Commun. 5, 10.1038 (2014). [7] Geary, J. M., [Introduction to Wavefront Sensors], SPIE-International Society for Optical Engineering, Bellingham, WA (1995). [8] Hradil Z., Mogilevtsev, D. and Rehacek, J., \Biased tomography schemes: An objective approach," Phys. Rev. Lett. 96, 230401 (2006). [9] Rehacek, J., Hradil, Z., Bouchal, Z., Celechovsky, R., Rigas, I. and Sánchez-Soto, L. L., \Full Tomography from Compatible Measurements," Phys. Rev. Lett. 103, 250402 (2009).
Collections