Publication:
Influencia de la altura rotuliana sobre la biomecánica de la rodilla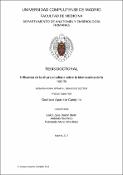 Authors
Advisors (or tutors)
Editors
Publisher
Universidad Complutense de Madrid
Abstract
La alteración de la altura rotuliana tiene importantes repercusiones clínicas.La patella baja se ha asociado con rigidez ,dolor y pérdida de fuerza extensora. La patela alta se relaciona con inestabilidad femoropatelar, entesopatías del aparato extensor, enfermedades de Osgood-Schlatter y Sinding-Larsen Johansson en adolescentes, dolor en cara anterior de rodilla y artrosis femoropatelar. La alteración de la línea articular en prótesis de rodilla afecta la fuerza extensora de los pacientes y su capacidad para subir y bajar escaleras, dolor en cara anterior de rodilla, pérdida del rango de movimiento en caso de patella baja, e inestabilidad femoropatelar en caso de patella alta. Partimos de la hipótesis de que una alteración de la altura rotuliana influye sobre la biomecánica de la rodilla, y que es posible diseñar un modelo experimental para demostrarlo. Como paso previo a su confirmación, se realizó un estudio teórico elemental en el que se plantearon la condiciones de equilibrio correspondientes a los diagramas de cuerpo libre de los elementos estructurales de la rodilla. Diseñamos un primer modelo con réplicas de huesos reales en material sintético y un montaje para extensometría que limitaba el estado de carga al plano sagital, pero presentó limitaciones que no permitieron confirmar la hipótesis...
Patellar height changes have important clinical consequences.Patella baja has been related to pain, loss of range of movement and knee extension force.Patella alta is associated with patellofemoral instability, extensor mechanism enthesopathies, Osgood – Schlatter and Sinding-Larssen-Johansson diseases, anterior knee pain syndrome and patellofemoral osteoarthritis. In total knee arthroplasty,changes in joint line position influences knee extension strength and patient́s ability to climb up and down stairs, anterior knee pain, loss of movement in case of patella baja, or patellofemoral instability in case of patella alta. We hipothesize that a change in patellar height changes knee biomechanics, and that it is feasible to design an experimental set up to demonstrate it. Firstly, we performed a theoretical study to establish the equilibrium conditions of free body diagrams for the knee structural elements. Secondly, we designed a setup for extensometry based on synthetic bone replicas, limited to sagital plane loads, but it showed limitations that made hypothesis could not be confirmed. Thirdly, a planar model of the knee, both in geometry and loading characteristics, based on that by Yamaguchi and Zajac (1989), and a new indication of photoelasticity, allowed us to locate patellofemoral and tibiofemoral contact points,and the magnitude of forces for different patellar heights and degrees of flexion of the knee...
Description
Tesis inédita de la Universidad Complutense de Madrid, Facultad de Medicina, Departamento de Anatomía y Embriología Humanas, leída el 25/01/2016
Collections