Publication:
Refugees' road from the beginning to the social integration : a comparative analysis between Canada and Spain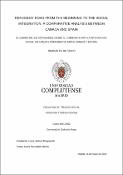 Authors
Advisors (or tutors)
Editors
Abstract
Social integration is one of the goals in the intervention with refugees. In order to find ways to make it easier for them is necessary to analyze different existing factors in the societies they arrive. History of the country, the number of refugees, the society, COVID-19 pandemic, thelaws, and the understanding of the social integration definition are part of these factors. We used a comparative method to analyze these factors in two different countries: Canada and Spain. The results show how, even with similar laws in both countries, social integration has differential elements in these contexts of analysis, being more difficult even to be accepted as a refugee in one of them.
La integración social es una de las metas de la intervención con refugiados. Para encontrar formas de facilitarla es necesario analizar diferentes factores existentes en las sociedades a las que llegan. La historia del país, el número de refugiados, la sociedad, la pandemia COVID19, las leyes y el entendimiento de la definición de integración social son parte de esos factores. Hemos utilizado un método comparativo para analizar estos factores en dos países diferentes: Canadá y España. Los resultados muestran cómo, a pesar de haber leyes parecidas en ambos países, la integración social presenta elementos diferenciales en cada uno de estos contextos de análisis, siendo más difícil incluso ser aceptado como refugiado en uno de ellos.