Publication:
Transporte electrónico de calor y de átomos ultra fríos en sistemas de puntos cuánticos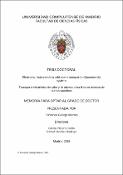 Files
Authors
Advisors (or tutors)
Editors
Publisher
Universidad Complutense de Madrid
Abstract
El tema de la presente tesis doctoral es: Transporte a través de sistemas mesoscópicos. Los sistemas mesoscópicos son materiales de un número de partículas pequeño, con un tamaño máximo del orden del micrómetro. Sus propiedades colectivas están regidas por la mecánica cuántica. En estos materiales, se estudia la dinámica de transporte, interacciones y coherencia de sistemas de una y unas pocas partículas. Los entornos considerados para el desarrollo de esta tesis son las estructuras de puntos cuánticos, donde partículas con un espín definido están confinadas en niveles de energía discretos. Los puntos cuánticos están acoplados por uniones túnel, que superponen las funciones de onda de los niveles de energía superiores. Las partículas en estos estados están deslocalizadas coherentemente por toda la estructura, que se comporta como una molécula artificial. Una fuerte interacción entre partículas está presente en estos sistemas debido a la proximidad entre ellas. Estos sistemas se controlan externamente cambiando voltajes de puerta acoplados capacitivamente a los puntos cuánticos. Por lo tanto, la energía, entropía y la dinámica coherente del sistema cambia de manera controlada. La mayor parte de esta tesis está basada en puntos cuánticos triples, los cuales constituyen un dispositivo perfecto para investigar interferencias entre distintos niveles. Tienen la ventaja de una separación espacial de los estados que permite manipularlos individualmente, y por otro lado el acoplo entre ellos también es controlado externamente. Al estudiar transporte de partículas, el sistema de puntos cuánticos se acopla débilmente a reservorios, con los cuales intercambia carga y energía. En el capítulo 7 se demuestran las interacciones entre distintos caminos entre los reservoiros usando un punto cuántico triple acoplado a tres reservorios. Las interacciones de Coulomb entre los electrones y las correlaciones entre los distintos caminos llevan a un bloqueo de la corriente en uno de los canales cuando el otro tiene una alta conductancia...
The topic of the present thesis is: transport through mesoscopic systems. Mesoscopic systems are materials with a maximum size of the order of the micrometer, whose properties are governed by quantum mechanics. In these materials, the single and few particle transport dynamics, interactions and coherence are studied. The platforms considered for the development of the present thesis are quantum dots, where particles with a defined spin are confined in discrete energy levels. Different quantum dots are coupled by tunnel junctions, overlapping the wave functions of their higher energy states. The particles in these states are then coherently delocalized along the whole quantum dot structure, which behaves as an artificial molecule. A strong particle-particle interaction is present in these systems due to the short distant between them. These systems can be externally controlled by tunning gate voltages capacitively coupled to the dots; therefore, the energy, entropy, and the coherent dynamics of the systems change in a supervised manner. Most of the thesis is based in triple quantum dots, which constitute a perfect device to investigate multilevel quantum interference. They have the advantage of an spatial separation of the states that, with the recent advances in their tunability, makes it possible to manipulate them individually; on the other hand, the tunnel coupling between them can also be controlled. To study particle transport, the quantum dot systems are weakly coupled to reservoirs, with whom they exchange particles and energy. In Chapter 7 a triple quantum dot with three reservoirs is studied to demonstrate the interactions of the different transport paths between the reservoirs. The Coulomb interaction of the electrons and the correlations between the different paths leads to a current blocking in one of the channels when the other has high conductance...
Description
Tesis inédita de la Universidad Complutense de Madrid, Facultad de Ciencias Físicas, leída el 28-04-2017
Collections