Publication:
Demografía de la lengua española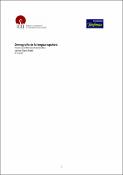 Advisors (or tutors)
Editors
Publisher
Instituto Complutense de Estudios Internacionales (ICEI)
Abstract
Dentro de los estudios sobre el papel social y económico de las lenguas, el aspecto demográfico –cuántos hablantes tiene una lengua– es a menudo tratado con tanto apresuramiento como poca exactitud. Este documento de trabajo propone una metodología de contabilización de hispanohablantes que permite caracterizar con más detalle al español como lengua internacional. Esta metodología distingue entre hablantes con dominio nativo de la lengua, hablantes con competencia limitada, y hablantes-aprendices del español como lengua extranjera, y utiliza determinados criterios de interpretación de las fuentes estadísticas disponibles. Los datos recogidos y elaborados utilizando estos criterios se presentan ordenados en dos apartados: los relativos al 'dominio hispánico' (países donde el español es lengua oficial) y los relativos a los hablantes residentes fuera de dicho dominio hispánico. A los resultados de conjunto se añade un ejercicio comparativo con otras lenguas internacionales, a fin de situar al español con más precisión en el panorama demolingüístico mundial. ABSTRACT: Within the study of the social and economic roles of the world's languages, the demographic aspect –ie, the number of speakers– is often glossed over or presented with a great deal of inaccuracy. This working paper proposes a methodology for counting the number of Spanish speakers that allows a more detailed picture of the Spanish language in the international context. The methodology makes a distinction between a language's native speakers, those of limited competence and learners of Spanish as a foreign language, and uses specific criteria for interpreting the available statistical sources. The data collected and set out using these criteria are presented in two different sections: on the one hand, those pertaining to the 'Hispanic sphere' (countries in which Spanish is the official language) and, on the other, those for speakers resident outside it. To the global results is added a comparative analysis with other international languages aimed at gaining a more precise idea of the Spanish language's place in the world's demographic and linguistic scenario.