Publication:
Integration of half-metallic ferromagnetic thin films on silicon by means of a tunnel contact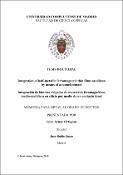 Authors
Advisors (or tutors)
Editors
Publisher
Universidad Complutense de Madrid
Abstract
The use of magnetic tunnel contacts have been proved as one of the most efficient methods for the efficient injection and detection of spin polarized currents on non-magnetic semiconductors. In this kind of systems, the spin polarized carriers of the ferromagnetic electrode are transferred by tunneling through an insulator barrier into the semiconductor. The diusive transport directly through the ferromagnet/semiconductor interface is limited by the large impedance mismatch between the two materials. The introduction of a tunnel barrier allows to improve the efficiency of the system and increase spin accumulation in the semiconductor. However, in order to achieve high spin rates the system needs to ful ll certain requirements. One of the fundamental conditions is the formation of at and abrupt interfaces. High interface roughness can induce the presence of magnetostatic elds that might induce spin precession and reduce spin polarization. Moreover, the presence of defects on the interface can act as scattering centers and reduce even more spin accumulation in the semiconductor...
Se ha demostrado que el uso de contactos tunel magneticos es uno de los metodos mas eficientes para la inyeccion y deteccion de corrientes polarizadas en espín en semiconductores no magneticos. En este tipo de sistemas, los portadores de carga polarizados en espín del electrodo ferromagnetico se transfieren al semiconductor por efecto tunel a traves de una barrera aislante. La inyeccion de espín por transporte difusivo de forma directa a traves de la intercara ferromagnetico/aislante es muy poco eficiente en terminos de polarizacion debido a la gran diferencia de impedancia electrica entre los dos materiales. La introduccion de una barrera tunel permite mejorar la eficiencia del sistema y aumentar la acumulacion de espín en el semiconductor. Sin embargo, para poder obtener una inyeccion eficiente el sistema debe ademas cumplir ciertos requisitos. Una de las condiciones principales es que las heteroestructuras presenten intercaras abruptas tanto morfologicamente como desde el punto de vista qumico. Esto se debe a que una rugosidad alta puede generar campos magnetoestaticos en la intercara que induzcan la precesion de los espines y reduzcan la polarizacion en el semiconductor. Ademas, los defectos presentes en la intercara pueden funcionar como centros de dispersion y reducir a su vez la polarizacion en espín de los portadores...
Description
Tesis inédita de la Universidad Complutense de Madrid, Facultad de Ciencias Físicas, Departamento de Física de Materiales, leída el 08-07-2019
Collections