Publication:
La sociedad en Black Mirror: el papel de la información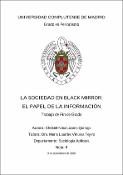 Authors
Advisors (or tutors)
Editors
Abstract
El presente trabajo estudia el impacto de las tecnologías de la información en la sociedad de Black Mirror, una serie de ciencia ficción que explora en un futuro distópico las transformaciones sociales y comunicacionales producidas por el avance de la tecnología. Se analizan cinco capítulos concretos que responden al propósito de conocer cuáles son las nuevas formas de comunicación y descubrir qué papel juega la información en la construcción de las relaciones sociales en la realidad alternativa que nos muestra la serie. Para ello, se ha desarrollado un análisis de contenido y se ha recurrido a la revisión bibliográfica de las ideas propuestas por autores como Manuel Castells, Jean Baudrillard y Gérard Imbert, especialistas en el ámbito de la comunicación y la sociología.
The present work studies the impact of information technologies in the society of Black Mirror, a science fiction series that explores in a dystopian future the social and communicational transformations produced by the advancement of technology. Five specific chapters are analyzed that respond to the purpose of knowing what are the new forms of communication and discovering what role information plays in the construction of social relations in the alternative reality that the series shows us. To do this, a content analysis has been developed and a bibliographic review of the ideas proposed by authors such as Manuel Castells, Jean Baudrillard and Gérard Imbert, specialists in the field of communication and sociology, has been used.