Publication:
Extreme heat and human health : the effects of extreme temperatures and pollution on health in Spain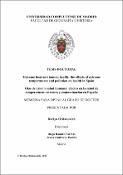 Authors
Advisors (or tutors)
Editors
Publisher
Universidad Complutense de Madrid
Abstract
This PhD thesis entitled Extreme heat and human health: The effects of extreme temperatures and pollution on health in Spain examines the impacts of heat waves and air pollution on human mortality. Background. We present this research as a scientific contribution to major societal issues: human impacts on environment, ongoing climate change, population settlements and demographic aging, along with adaptive capacities of our societies, to mention a few. With a clear emphasis on spatial dimensions and a steadfast investment in data collection procedures and statistical methods, we propose a novel perspective on the spatial and temporal geographic, demographic and epidemiological transformations witnessed in Spain during the late 20th and early 21st century. The choice of Spain as a study area is based on the fact that this country as an excellent laboratory in which one could run comprehensive analysis oriented to disentangle complex relationship between changing climate with newly emerging extreme events and human mortality...
Esta tesis doctoral titulada Olas de calor y salud humana: Efectos en la salud de temperaturas extremas y contaminación en España examina los impactos de las olas de calor y la contaminación del aire en la mortalidad humana. Introducción. Aportamos con esta tesis una contribución científica a algunos de los problemas sociales más acuciantes: el impacto humano en el medio ambiente, el cambio climático en curso, el asentamiento de la población y el envejecimiento demográfico, junto con las capacidades de adaptación de nuestras sociedades. Con un claro énfasis en la dimensión espacial y en procedimientos de recopilación de datos y métodos estadísticos, proponemos una perspectiva novedosa sobre las transformaciones geográficas, demográficas y epidemiológicas ocurridas en España desde finales del siglo XX. Elegimos España como área de estudio por ser un excelente laboratorio donde se pueden realizar análisis integrales orientados a desentrañar la compleja relación entre elcambio climático, eventos extremos emergentes y la salud y mortalidad humana...
Description
Tesis inédita de la Universidad Complutense de Madrid, Facultad de Geografía e Historia, leída el 31-03-2022
Collections