Publication:
El contrato de SWAP de tipos de interés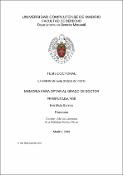 Files
Authors
Advisors (or tutors)
Editors
Publisher
Universidad Complutense de Madrid
Abstract
Esta tesis tiene por objeto analizar y esclarecer los aspectos más controvertidos del contrato de swap de tipos de interés. Para ello, se concretan en primer lugar, los motivos y causas de la eclosión de esta figura jurídica y su posterior evolución, especificando cómo en la última década, el swap de tipos de interés ha venido siendo prolijamente utilizado no como un instrumento de reestructuración financiera entre grandes empresas, sino como un instrumento de cobertura, comercializado por entidades de crédito entre clientes minoristas y pymes. A continuación, se acomete el estudio de la tipología de los swaps de tipos de interés, y se ofrece un concepto comprensivo de todas sus modalidades. Se analizan en detalle los elementos caracterizadores y constitutivos de este contrato, poniendo especial énfasis en los elementos diferenciadores con otras figuras jurídicas, las fuentes de conflicto de interés y los supuestos de autoentrada del comisionista. Se enumeran ulteriormente las obligaciones de las partes contratantes, haciendo especial hincapié en las obligaciones de las entidades de crédito en la comercialización de los swaps de tipos de interés con clientes minoristas. Finalmente se acomete el estudio de las causas de finalización, examinando la prolija jurisprudencia que ha surgido a raíz de la gran cantidad de litigios solventados en nuestros tribunales.
This thesis aims to analyze and clarify the most controversial aspects of the interest rate swap contract. First and foremost, we need to set forth the reasons and causes of the emergence of this legal figure and its subsequent evolution, specifying how in the last decade it has been neatly used not as an instrument of financial restructuring among large enterprises, but as a hedging instrument sold by banks to retail customers and SMEs. Hereafter, we undertake the study of the typology of interest rate swaps and a comprehensive concept of all its modalities is offered. The characteristic and constitutive elements of this contract are analyzed in detail, placing special emphasis on differential elements with other legal figures, sources of conflict of interest and self-entry assumptions. Obligations of the contracting parties are listed, with particular emphasis on the obligations of credit institutions in the trading of swaps with retail customers. Finally, we undertake the study of the causes of termination, examining the extensive jurisprudence that has arisen as a result of the large number of disputes resolved in our Courts.
Description
Tesis inédita de la Universidad Complutense de Madrid, Facultad de Derecho, Departamento de Derecho Mercantil, leída el 26-01-2017
Collections