Publication:
Tratamiento de los contenidos culturales en soportes periodísticos de carácter digital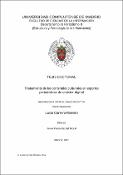 Files
Authors
Advisors (or tutors)
Editors
Publisher
Universidad Complutense de Madrid
Abstract
Esta investigación analiza la imagen que se ofrece de la cultura a través de Internet, como un nuevo medio que puede ofrecer una gran cantidad de información cultural. La llegada de un nuevo modelo de sociedad centrado en las nuevas tecnologías, conocida como sociedad Red, trae muchos cambios para los miembros de esta sociedad, los medios y el público. Por lo tanto, la sociedad red es la responsable de una serie de cambios en cuanto a prioridades y modos de comunicación de estos medios. Hoy en día, algunos de los requisitos fundamentales de estos medios se centran en la accesibilidad y la sencillez de la información cultural. Existen una serie de cualidades que quedan señaladas y destacadas en esta red y que, a su vez, hacen que el publico reciba estos contenidos con mayor facilidad. Así, una vez definidas las características de esta sociedad red, nos acercamos a definir el concepto de cultura, cómo ha evolucionado a lo largo de la historia, se ha entendido y se entiende en la actualidad dentro de la sociedad...
This research analyzes the image offered of culture by Internet, as a new media that can offer wide cultural information. The arrival of a new model of a new model of society focused on new technologies, known as network society, brings many changes for the members of this society, the media and the public. Thus, network society is the responsible for the changes of operation in procedures and in the priorities of these media. Nowadays, the priority is an important requirement as they are as well accessibility and simplicity for the cultural information. There are a number of particular qualities that are remarked by the network, and have made the public receive with easiness these contents. Once, the characteristics of the network society are defined, we will approach to the concept of culture, as it has been developed throughout history and as it has been currently understood. We want to find out how the public receives cultural information through the Internet, consequently, we will establish a main hypothesis for our study...
Description
Tesis inédita de la Universidad Complutense de Madrid, Facultad de Ciencias de la Información, Departamento de Periodismo II (Estructura y Tecnología de la Información), leída el 29-11-2016
Collections