Publication:
Diseño de biomateriales para regeneración ósea basados en andamios y nanopartículas de vidrio mesoporoso enriquecidos con zinc y/o osteostatina y células madre mesenquimales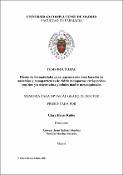 Authors
Advisors (or tutors)
Editors
Publisher
Universidad Complutense de Madrid
Abstract
El sistema esquelético es una parte esencial del organismo y está formado por los huesos. Cada hueso constituye un órgano en sí mismo, formado por distintos tejidos que se interrelacionan para conseguir que el sistema funcione correctamente. Cada uno de los huesos sufre un proceso constante de formación-resorción que debe mantenerse en equilibrio para el buen funcionamiento del sistema. La integridad y funcionamiento del sistema esquelético comienza a degenerar, lenta y progresivamente a partir de los 30 años. La sociedad actual, cada vez más envejecida, presenta de forma recurrente problemas óseos, distintos tipos de patologías y/o fracturas que necesitan ser tratadas de la forma más efectiva posible. El patrón oro en el campo de los injertos óseos es el autoinjerto...
The skeletal system is an essential part of the body and is formed by bones. Each bone constitutes an organ formed by different tissues that interrelate to make the system work properly. Each bone that makes up the organism, undergoes a constant process of formation-resorption, which must be kept in balance for the system to function properly.The integrity and functioning of the skeletal system begin to degenerate, slowly and progressively from the age of 30. Today's society, which is becoming progressively older, presents bone problems, in an increasingly recurring manner, such as different types of pathologies and/or fractures, which need to be treated as effectively as possible...
Description
Tesis inédita de la Universidad Complutense de Madrid, Facultad de Farmacia, leída el 12-05-2021
Collections