Publication:
Asociacionismo en entidades profesionales y científicas de la sociología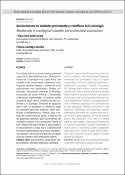 Advisors (or tutors)
Editors
Publisher
Federacion Española de Sociologia
Abstract
Este trabajo analiza el asociacionismo profesional a partir de los datos del Estudio de la Situación Profesional de la Sociología en la España Actual. Tres variables clave, conocimiento, pertenencia y participación, permiten explorar la membresía en las organizaciones más significativas: Colegios profesionales, Asociaciones científicas de Sociología, Asociaciones de Ciencia Política; y, Asociaciones profesionales especializadas. Se generan perfiles asociativos según cuatro variables: cercanía profesional a la Sociología, formación de postgrado, edad y sexo. La membresía es diferencial según las características de las entidades, siendo significativa la multipertenencia. Además, bajo el enfoque del capital social se analiza la relación con las ganancias específicas para sus miembros. Los resultados apuntan a dos conclusiones: existe un perfil diferenciado entre colegios y asociaciones; y el asociacionismo se dirige más a la consolidación de carreras profesionales que al inicio de trayectorias laborales, por lo que la adquisición de capital social se orientaría hacia este primer objetivo.
This paper analyzes the professional association context for sociologists. Three key variables, knowledge, membership and participation, lead us to explore membership in the most significant organizations: professional associations, scientific associations (for Sociology and/or Political Science) and professional specific-field associations. We have generated different types of associative profiles a according to four variables: age, sex, postgraduate education, and career development-closeness to sociology. Membership is differential according to the characteristics of each organization. Multiple-membership is also significant. Additionally, the relationships between membership and profits are analyzed under the focus of social capital approach. The results achieved point to two conclusions. First, there is a distinct profile for each subtype of organization: Professional or Scientific associations. Secondly, membership is mainly aimed at enhancing career's development rather than set in motion a career path by beginners. Thus, acquisition of social capital is oriented towards this first goal.
Collections