Publication:
Apendicitis aguda en pacientes pediátricos y su tratamiento mediante abordaje mínimamente invasivo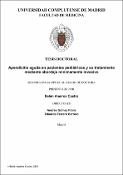 Authors
Advisors (or tutors)
Editors
Publisher
Universidad Complutense de Madrid
Abstract
La apendicitis aguda es la causa más frecuente de cirugía abdominal urgente en los pacientes pediátricos. A pesar de que esta patología puede presentarse a cualquier edad, el pico de incidencia se suele encontrar entre los 11 y los 12 años, siendo más frecuente en el género masculino. Su diagnóstico es clínico, aunque habitualmente se complementa con pruebas de laboratorio y de imagen. En los pacientes pediátricos, la clínica es muy variable, dando lugar a errores y/o retrasos en el diagnóstico, que conllevan un mayor número de complicaciones y un aumento de la morbilidad. Asimismo, la variabilidad en la localización del apéndice provoca modificaciones en la clínica de los pacientes, lo que también favorece errores y/o retrasos diagnósticos. Dadas las ventajas del abordaje mínimamente invasivo, la apendicectomía laparoscópica es el tratamiento de elección en la actualidad. Diversos estudios han comparado el abordaje clásico y el laparoscópico, concluyendo que, una vez alcanzada la curva de aprendizaje, la cirugía mínimamente invasiva no incrementa el número de complicaciones postoperatorias y, en la mayoría de los casos, las disminuye. En centros especializados, la apendicectomía laparoscópica ha demostrado una menor incidencia de infección de las heridas quirúrgicas y de íleo paralítico, disminución del dolor postoperatorio, menor estancia hospitalaria y mejor resultado estético, en comparación con la técnica abierta. Dado que los estudios en la población pediátrica son escasos y que la clínica y las técnicas son diferentes de aquellas empleadas en pacientes adultos, consideramos adecuado el estudio de la evolución clínica de esta patología y las técnicas empleadas en este grupo de pacientes para tratar de evitar y/o disminuir las complicaciones...
Acute appendicitis is the most common abdominal surgical emergency in children. Although this pathology can occur at any age, there is a peak in incidence between the age of 11 and 12 years. Acute appendicitis is more frequent in male patients. The diagnosis is based on a combination of medical history and physical examination. However, laboratory test and radiologic imaging are usually needed to confirm the diagnosis. The clinical findings in pediatric patients are very varied, resulting in delayed diagnosis or misdiagnosis, which leads to a higher rate of complications and morbidity. Likewise, the variability in the position of the appendix can alter physical examination findings, which also leads to delayed diagnosis or misdiagnosis. Due to the benefits of minimally invasive surgery, laparoscopic appendectomy is the gold standard of treatment. Several studies have compared open and laparoscopic appendectomy in children. Once the learning curve has been completed, minimally invasive surgery does not increase the rate of complications and even reduces it. Compared with open approach, laparoscopic appendectomy has demonstrated lower rate of wound infection and bowel obstruction, lower postoperative pain, faster hospital discharge and better cosmetic results, in centers with experience in minimally invasive surgery. Due to the fact that pediatric studies are limited and clinical findings and techniques are different from those employed in adults, we believe that it would be useful to study the clinical evolution and surgical outcomes of pediatric patients with acute appendicitis in order to avoid and decrease complications...
Description
Tesis inédita de la Universidad Complutense de Madrid, Facultad de Medicina, leída el 27/01/2021. Tesis formato europeo (compendio de artículos)
Collections