Publication:
Estudio mediante dinámica molecular del efecto de la radiación e isótopos de H en diamante para su aplicación en fusión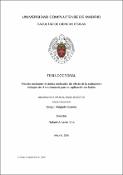 Files
Authors
Advisors (or tutors)
Editors
Publisher
Universidad Complutense de Madrid
Abstract
Las recientes mejoras en la síntesis de Diamante artificial han logrado cristales de mayor tamaño, propiedades optimizadas y en muchos casos superiores a sus variantes naturales. Con ello, los cristales sintéticos de Diamante, pasan a ser una alternativa seria en aplicaciones de Fusión Nuclear. Algunas de las propiedades deseables para dichas aplicaciones son especialmente notables en Diamante, entre otras su conductividad térmica o su amplio rango de transparencia electromagnética. Sin embargo, el conocimiento acumulado acerca de su comportamiento bajo radiación, o más concretamente bajo las condiciones radiactivas de Fusión, es todavía limitado. En aplicaciones de Fusión nuclear, es imprescindible conocer el efecto de la radiación neutrónica y la interacción del material con Hidrógeno, sus isótopos y otros elementos ligeros propios de los plasmas de Fusión. No nos consta una bibliografía extensa acerca del daño por radiación en Diamante, existen estudios poco concluyentes acerca de la energía umbral de desplazamiento, se ha estudiado la grafitización o amorfización y tópicos tales como la implantación o el daño por bombardeo electrónico, iónico o gamma, pero no se han encontrado trabajos previos a esta tesis en cascadas de desplazamientos 1 y, como veremos, apenas unos pocos trabajos utilizan la técnica de la Dinámica Molecular en estudios de daño por radiación en este material. La interacción del Hidrógeno en la red de Diamante sí ha sido extensamente estudiada, se conocen multitud de líneas de absorción relacionadas con su presencia, se ha estudiado su difusión mediante técnicas experimentales y existen descripciones atomísticas de los sitios de equilibrio en la red de Diamante, aislado o formando parte de agregados...
The recent improvement in synthetic Diamond production has achieved higher size crystals, with optimized properties and in many cases better than their natural counterparts. With that, the synthetic Diamond crystals become a serious alternative in Nuclear Fusion applications. Some of the desirable properties in that applications are quite relevant in Diamond, among others their thermal conductivity and their wide range of electromagnetical transparency. However, the accumulated knowledge about Diamond radiation damage or specially under Fusion radiation conditions is still limited. In nuclear Fusion applications, is essential to know the effect of neutron radiation and interaction of Diamond with Hydrogen, isotopes and other own light elements of Fusion plasmas. We have no extensive literature on radiation damage in Diamond, studies are inconclusive. Displacement threshold energy, has been studied, as well as grafitization or amorphization and topics such as implantation or induced damage by electron, gamma or ion bombardment. But we have not found prior to this thesis works in displacement cascades 2 and, as we shall see, only a few studies use the technique of molecular dynamics in studies of radiation damage in this material. Hydrogen interaction in Diamond lattice has been extensively studied, many absorption lines related with their presence have been stabilized. Hydrogen diffusion has been experimentally studied and there are atomistic descriptions of both isolated equilibrium sites and as a part of clusters...
Description
Tesis inédita de la Universidad Complutense de Madrid, Facultad de Ciencias Físicas, leída el 08/02/2016
Collections