Publication:
Las TIG al servicio de la Arqueología no invasiva: Reconstrucción topográfica y arqueológica del Cerro de la Mesa (Alcolea de Tajo, Toledo)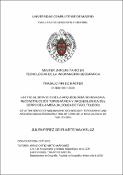 Authors
Advisors (or tutors)
Editors
Abstract
La Arqueología no invasiva encuentra en las TIG un soporte fundamental en su propósito de minimizar el impacto material sobre el patrimonio arqueológico, pero también en el beneficio que supone, para la investigación, la adquisición de información complementaria que permiten las tecnologías geoespaciales. El presente trabajo parte con el objetivo de profundizar en la aplicación de herramientas procedentes del ámbito de las TIG, como son la técnica Structure From Motion (SfM), asociada a la fotogrametría digital, y el LiDAR, que se combinan para integrar una metodología de estudio no invasivo sobre el yacimiento arqueológico del Cerro de la Mesa (Alcolea de Tajo, Toledo). La utilización de ambas técnicas forma parte de un proceso de reconstrucción que se plantea tanto en el plano topográfico como arqueológico, donde el empleo de fotogramas aéreos históricos aporta la información necesaria para restaurar la morfología del yacimiento, cuyas características originales se han perdido, estableciendo la base desde la cual situar la interpretación arqueológica. Esta reconstrucción se plasma en los productos cartográficos obtenidos tras la aplicación, cuyo tratamiento, análisis y comparación permite no solo revalorizar estas herramientas en el estudio del Cerro de la Mesa sino también proponer, y en base a sus limitaciones, mejorar una metodología de implantación aplicable a otros casos de estudio semejantes en Arqueología.
Non-invasive Archaeology finds in the group of GIT an essential support for the purpose of minimizing physical impact over the Archaeological Heritage, but also for the profit of acquiring supplementary information for the investigation allowed by geospatial tools. The present work starts with the objective of delving into the application of GIT tools, like the SfM technique, associated with digital photogrammetry, and LiDAR, that are combined to integrate a non-invasive methodology related to the archaeological settlement of Cerro de la Mesa (Alcolea de Tajo, Toledo). The application of both techniques takes part of a reconstruction process that is raised in a topographical level, where the use of historical aerial photographs provides the necessary information to restore the modified morphology of the settlement, establishing the base from which the archaeological interpretation bust be located. This reconstruction is embodied in the cartographic products obtained after the application, where data processing, analysis and comparison allow the revaluation of these tools but also, knowing their limits, the proposal and improvement of an applicable methodology in other case studies related to Archaeology.