Publication:
Estancia media, mortalidad intrahospitalaria y reingresos en pacientes hospitalizados por insuficiencia cardiaca en España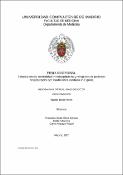 Files
Authors
Advisors (or tutors)
Editors
Publisher
Universidad Complutense de Madrid
Abstract
La insuficiencia cardiaca (IC) es uno de los principales problemas sanitarios en España, aunque la falta de estudios con un diseño adecuado impide conocer con exactitud la envergadura real de este problema clínico. La prevalencia de la IC se estima en un 2% en otros países europeos y en Estados Unidos, mientras que los estudios epidemiológicos en nuestro país la sitúan en torno al 5%, probablemente debido a sus limitaciones metodológicas. La IC es una auténtica epidemia cardiovascular de nuestro siglo: es la primera causa de ingreso de mayores de 65 años, supone el 3% del total de las hospitalizaciones, y consume el 2,5% del presupuesto sanitario. La IC presenta dos perfiles clínicos diferenciados: la IC con fracción de eyección preservada (IC-FEP), más relacionado con la hipertensión arterial, y la IC con fracción de eyección reducida (IC-FER), asociada frecuentemente a la cardiopatía isquémica. En los últimos años hemos sido testigos de una reducción progresiva de la mortalidad por IC, en parte consecuencia de una mayor aplicación de las recomendaciones de las Guías Internacionales de práctica clínica...
Heart failure (HF) is one of the main health problems in Spain, although the lack of studies with adequate design prevents accurate information about the true extent of this clinical problem. The prevalence of HF is estimated at 2% in other European countries and the United States, while epidemiological studies in our country are around 5%, probably due to methodological limitations. HF is a true cardiovascular epidemic of our century: it is the first cause of hospitalization of patients over 65, accounting for 3% of all hospitalizations, and consumes 2.5% of the health budget. HF has two distinct clinical profiles: HF with preserved ejection fraction (HF-PEF), more related to high blood pressure, and heart failure with reduced ejection fraction (HF-REF), often associated with ischemic heart disease. In recent years, we have witnessed a gradual reduction of mortality due to HF, in consequence of the further implementation of the recommendations of the International Clinical Practice Guidelines...
Description
Tesis inédita de la Universidad Complutense de Madrid, Facultad de Medicina, Departamento de Medicina, leída el 10-02-2016
Collections