Publication:
Adaptación escolar, social y familiar, estrés cotidiano y acontecimientos vitales estresantes en la infancia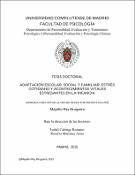 Authors
Advisors (or tutors)
Editors
Publisher
Universidad Complutense de Madrid
Abstract
Las investigaciones sobre el estrés o sobre la infancia son muy numerosas. Sin embargo, los trabajos dedicados al estudio del estrés en la infancia aún no son suficientes para conocer las consecuencias del estrés en esta etapa de la vida. Y sorprende los escasos estudios del estrés en la infancia con población clínica de salud mental. La presente investigación analizó la relación entre los acontecimientos vitales estresantes (AVE) y situaciones de estrés cotidiano y la sintomatología psicológica y la adaptación en la infancia. Se consideraron aquellos AVE de carácter negativo, pero no traumáticos, independientes del control del individuo, y que implicaban algún tipo de pérdida. Los estresores cotidianos eran situaciones diarias, menos intensas, pero molestas por su alta frecuencia. Se revisó la literatura clásica de referencia y la más reciente evidencia sobre AVE y los estresores cotidianos en el ámbito de la infancia y la adolescencia y su posible efecto acumulativo...
NOTA 520 8 Studies of stress or childhood are countless. However, research on stress in childhood is still scarce in order to know the consequences of stress at this stage of development. And surprisingly there are few studies of stress in children with clinical mental health population. The present work studied the relationship between stressful life events (SLE) and daily hassles, and psychological symptoms and adjusment in childhood. Negative, but not traumatic SLE were selected, those not under someonés control, and involving some kind of loss. Daily hassles were less intense, but annoying for its high frequency in everyday life. Both classical reference studies and the most recent evidence related to stressful life events and daily hassles were reviewed, as well as their possible cumulative effect...
Description
Tesis inédita de la Universidad Complutense de Madrid, Facultad de Psicología, Departamento de Personalidad, Evaluación y Tratamiento Psicológico I (Personalidad, Evaluación y Psicología Clínica), leída el 01-02-2016
Collections