Publication:
Actitudes hacia la Unión Europea en la Europa Central y Oriental: la importancia del contexto nacional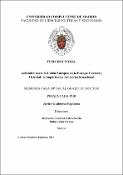 Files
Authors
Advisors (or tutors)
Editors
Publisher
Universidad Complutense de Madrid
Abstract
La UE se encuentra en uno de los momentos más difíciles de su historia. Diferentes crisis han enturbiado el proceso de integración europeo, alimentando el fenómeno del "euroescepticismo" que, entre otras cosas, se encuentra detrás de la salida del Reino Unido de la UE. Prácticamente ningún país ha quedado al margen de este fenómeno, que se ha manifestado también en los países poscomunistas de la Europa Central y Oriental. Las actitudes ciudadanas hacia la UE han despertado el interés de los investigadores sociales en las últimas décadas, sobre todo aquellas referidas a la oposición al proyecto europeo. Esto ha resultado en decenas de teorizaciones sobre sus causas. Destacan entre todas ellas los enfoques utilitario e identitario, pero ciertos desarrollos políticos recientes evidencian que han perdido capacidad explicativa. La "Teoría de la Referencia"(Benchmark Theory) formulada por Catherine de Vries es una respuesta a la naturaleza cambiante de las actitudes ciudadanas hacia la UE. Según sus postulados, los ciudadanos comparan el contexto europeo con el contexto nacional en dos dimensiones: la del sistema político y la de las políticas...
The EU is in one of the most difficult moments in its history. Different crises have clouded the European integration process, fueling the phenomenon of "Euroscepticism" that, among other things, is behind the United Kingdom's exit from the EU. Practically no country has been left out of this phenomenon, which has also manifested itself in the post-communist countries of Central and Eastern Europe. Citizen attitudes towards the EU have aroused the interest of social researchers in recent decades, especially those related to opposition to the European project. This has resulted in dozens of theorizing about its causes. The utilitarian and identity approaches stand out among all of them, but certain recent political developments show that they have lost explanatory power. The Benchmark Theory, formulated by Catherine de Vries, is a response to the changing nature of citizens' attitudes towards the EU...
Description
Tesis inédita de la Universidad Complutense de Madrid, Facultad de Ciencias Políticas y Sociología, leída el 21-01-2021
Collections