Publication:
Ruta de las Vírgenes Negras y Morenas de La Rioja: orígenes de su culto e iconografía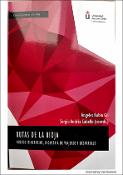 Authors
Advisors (or tutors)
Editors
Abstract
El texto estudia la presencia de las llamadas Vírgenes Negras o Morenas en distintas zonas de La Rioja (España). Se trata de representaciones escultóricas o pictóricas de la Virgen María, de cronología mayoritariamente medieval (siglos XI-XIII), y caracterizadas por presentar tonalidades oscuras o totalmente negras de la piel. Se estudian su precedentes en la iconografía griega y romana, así como las referencias a estas vírgenes en los textos medievales.
The text studies the presence of the so-called Black Virgins or Morenas in different areas of La Rioja (Spain). They are sculptural or pictorial representations of the Virgin Mary, mostly medieval chronology (XI-XIII centuries), and characterized by presenting dark or totally black skin tones. Their precedents in Greek and Roman iconography are studied, as well as references to these virgins in medieval texts.
Collections