Publication:
España en los años 70 y 80: una visión crítica. I.- Sociedad y Cultura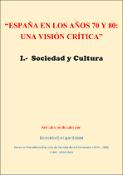 Authors
Advisors (or tutors)
Editors
Abstract
Las décadas de los setenta y ochenta, en España experimentaron una profunda transformación creativa. Como periodista, el autor participó directamente, y aquí se muestra una recopilación de sus artículos de por entonces. En esta primera sección se incluyen los de temática social, tanto de índole política como sociológica y antropológica, publicados en las desaparecidas revistas Cuadernos para el Diálogo, Cambio 16, Diario 16, Sábado Gráfico, Qué y Personas, entre otras. Surgían nuevos fenómenos culturales, como los homenajes a poetas republicanos, la prensa marginal o contracultural y la decadencia de las fotonovelas. También sucedieron ocupaciones de locales vacíos, transformaciones urbanas, ciertos abusos judiciales y las propuestas del movimiento antipsiquiátrico, con la toma de la palabra por parte de los considerados locos.
The 1970s and 1980s in Spain underwent a profound creative transformation. As a journalist, the author participated directly, and here is a compilation of his articles from then. This first section includes those of social thematics, both political and sociological and anthropological, published in magazines that no longer exist: Cuadernos para el Diálogo, Cambio 16, Diario 16, Sábado Gráfico, Qué and Personas, among others. New cultural phenomena emerged, such as tributes to republican poets, the marginal or countercultural press, and the decline of photonovelas. There were also occupations of empty premises, urban transformations, certain judicial abuses and proposals of the anti-psychiatric movement, with taking of speech by those considered crazy.
Description
Recopilación de artículos periodísticos del autor
Collections