Publication:
Estudio ecofisiológico de macrolíquenes de bosques de lluvia templados en el centro-sur de Chile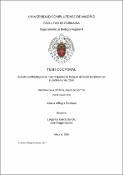 Files
Authors
Editors
Publisher
Universidad Complutense de Madrid
Abstract
La Cordillera de la Costa de la Región de los Ríos coincide dentro de los centro de mayor biodiversidad y endemismos del mundo (Myers et al., 2000). Además de enmarcarse dentro de los 35 puntos calientes o "hotspots" mundiales de biodiversidad (Mittermeier et al., 2011). Sin embargo,precisamente estas zonas (35° y 41° latitud Sur) sufren la mayor transformación del paisaje debido a la sustitución del bosque nativo por plantaciones forestales y otros usos agrícolas. Esta gestión del hábitat acarrea una pérdida de biodiversidad debido a una alta destrucción por degradación y fragmentación del bosque nativo (Lara et al., 1997), lo que se podrían agravar si consideramos un probable aumento de la temperatura (variable según el tipo de modelo utilizado) y una alteración de la cantidad como también la distribución de las precipitaciones en la zona (CEPAL, 2009; IPCC,2014). El resultado de la combinación de ambos factores es una clara amenaza a los recursos hídricos, y en consecuencia a la vegetación natural, principalmente sobre aquellas que para mantener su metabolismo activo necesitan disponibilidad de agua en el ambiente. En este contexto,se ha planteado en la siguiente tesis doctoral un estudio global que reporte la diversidad, los requerimientos ecológicos y la respuesta fisiológica ante las condiciones ambientales de especies de macrolíquenes en un bosque lluvioso templado de la Cordillera de la Costa en la Región de los Ríos dentro de un área natural protegida...
The coastal mountains of Región de los Ríos (Chile) match within the center of one of the greatest biodiversity and endemism of the world (Myers et al., 2000). Besides, it is marked as a world biodiversity "hotspot" (Mittermeier et al., 2011). However, this zone (35° and 41° south latitude) is suffering the biggest landscape transformation due to the native forest substitution with the forest plantations and for agricultural uses. This habitat management produces a biodiversity loss because of the high destruction rate for degradation and fragmentation of the native forest (Lara et al., 1997). Further, it may became worse if it's considered a probable temperature increase (variable depending of the model type used) and an alteration related to quantity and precipitation distribution (CEPAL, 2009; IPCC, 2014).The result of the combination of both factors is a clear threat to the water resources, and consequently to natural vegetation, especially those that need water availability in the environment to maintain their metabolism system activated. In this context, the following doctoral thesis has considered a global study that reports the diversity, ecological requirements and physiological response to the environmental conditions of macrolichens species in a temperate rainforest of theCoastal Mountains of Los Ríos Region, within a protected natural area...
Description
Tesis de la Universidad Complutense de Madrid, Facultad de Farmacia, Departamento de Biología Vegetal II, leída el 19/07/2017
Collections