Publication:
Interfaz gráfica para Mobile-Maude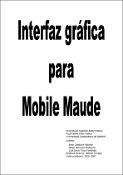 Advisors (or tutors)
Editors
Abstract
La finalidad de este proyecto es desarrollar un conjunto de aplicaciones para poder observar gráficamente el flujo de ejecución de aplicaciones Mobile Maude, pudiendo ver los objetos, los estados por los que van pasando dichos objetos en los distintos terminales de ejecución, las reglas que se aplican y los mensajes que se envían. Este proyecto servirá para tres tipos de uso:  Una versión distribuida que consiste en ejecutar varias veces la aplicación y en cada una de ellas se cargará el programa a ejecutar y una instancia de éste. Estas instancias interaccionarán entre sí provocando que los objetos móviles viajen y, creando los estados y mensajes que mostraremos en la aplicación correspondiente junto con los objetos.  Otra versión centralizada que permitirá realizar exactamente lo mismo que en la distribuida pero sólo ejecutando una vez la aplicación y cargando el programa a ejecutar. En la misma interfaz se mostrarán las distintas instancias y los distintos estados, objetos y mensajes que se crean en cada instancia al viajar los objetos móviles.  Y una última versión que chequea modelos e indica si es cierto o falso. En el caso de que sea falso mostrará un contraejemplo. [ABSTRACT] The purpose of this project is to develop a set of applications to be able to observe graphically the flow of execution of Mobile-Maude applications, being able to see the objects, the states through which they are passing in the different terminals of execution, the rules that are being applied and the messages that are sent. This project will be used for three types of versions:  A distributed version that consists of executing several times the application and each one of them will load the program to execute and an instance of this one. These instances will interact to each other causing that the mobile objects travel and creating the states and messages that we will along with show in the corresponding application the objects.  Another centralized version that will allow making exactly just like in the distributed one but only executing the application once and loading the program to execute. In the same interface we will see the different instances and the different states, objects and messages that are created in each instance when traveling the mobile objects.  And a last version that checks models and indicates if it is certain or false. In case it is false shows a counterexample.
Description
Trabajo de la asignatura Sistemas Informáticos (Facultad de Informática, Curso 2006-2007)
Collections