Publication:
Evaluación del estado sanitario de las tortugas gigantes de las Islas Galápagos desde una perspectiva de One Health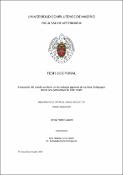 Files
Authors
Advisors (or tutors)
Editors
Publisher
Universidad Complutense de Madrid
Abstract
La tortuga gigante de las Islas Galápagos (Chelonoidis spp.) es uno de los animales más emblemáticos de todo el mundo. Los reptiles que dan nombre a uno de los archipiélagos mejor conservados del planeta enfrentan hoy en día numerosas amenazas, vinculadas a los cambios antropogénicos que están afectando a sus ecosistemas y causando un potencial impacto sobre su ecología, su fisiología y su estado de salud. De las 14 especies de tortuga gigante que un día poblaron las islas, dos están consideradas extintas debido a la depredación humana, y las otras 12 especies se encuentran registradas bajo algún grado de amenaza, de acuerdo con la Unión Internacional para la Conservación de la Naturaleza (UICN). El incremento del turismo, el cambio climático y la presencia de especies invasoras son algunos de los factores que están contribuyendo al deterioro de la salud de los ecosistemas de Galápagos y su biodiversidad (entendido desde un enfoque de One Health), pero hay otros muchos factores que no han sido estudiados en detalle...
The Galapagos giant tortoise (Chelonoidis spp.) is one of the most emblematic animals on Earth. The reptiles named for one of the best-preserved archipelagos on the planet are facing several challenges today. Anthropogenic activities are severely changing Galapagos ecosystems which have potential impacts to the ecology, physiology, and health status of these giants. Of the 14 tortoise species that once inhabited the islands, two are considered extinct due to human predation, and the remaining 12 are considered endangered according to the International Union for Conservation of Nature (IUCN). The increase of tourism, together with climate change and the presence of invasive species are some of the main factors affecting the health of Galapagos ecosystems and biodiversity. However, many other factors have not been studied in detail...
Description
Tesis inédita de la Universidad Complutense de Madrid, Facultad de Veterinaria, leída el 04/11/2022. Tesis formato europeo (compendio de artículos)
Collections