Publication:
Moléculas orgánicas funcionalizadas para el diseño de materiales con propiedades avanzadas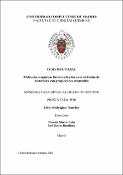 Files
Authors
Advisors (or tutors)
Editors
Publisher
Universidad Complutense de Madrid
Abstract
En los últimos años se ha desarrollado una nueva metodología de síntesis denominada síntesis en o sobre superficie. Este es un campo de investigación extremadamente prometedor destinado a crear nuevos materiales orgánicos que no pueden sintetizarse por métodos convencionales, utilizando superficies sólidas bien definidas como plataformas para iniciar reacciones químicas. Una de las principales herramientas empleadas en la nanociencia son los microscopios de sonda de barrido (SPM). Esta familia de microscopios se inició con la invención del STM, donde sólo unos años después, se desarrolló también el microscopio de fuerza atómica (AFM, Atomic Force Microscope, por sus siglas en inglés) como técnica complementaria. Inspirados en la investigación preliminar del grupo con el 9,10-bis(dibro-mometilen)-9,10-dihidroantraceno, se decidió profundizar en el conoci-miento de los polímeros derivados de aceno y periaceno utilizando este novedoso protocolo. Para ello, se sintetizaron y funcionalizaron diferen-tes quinonas simétricas de acenos y periacenos empleando el protocolo de olefinación de Ramírez, para introducir las funcionalidades gem-di-bromovinileno (=CBr2)...
In recent years, a new synthetic methodology called on-surface synthesis has been developed. On-surface synthesis is an extremely promising field of research aimed at creating new organic materials that cannot be synthesized by conventional methods, using well-defined solid surfaces as templates to initiate chemical reactions. One of the main tools used in nanoscience are scanning probe microscopes (SPM). This family of mi-croscopes started with the invention of the STM, where only a few years later, the Atomic Force Microscope (AFM) was also developed as a com-plementary technique.Inspired by the group's preliminary research with 9,10-bis(dibromometh-ylene)-9,10-dihydroanthracene, it was decided to deepen the under-standing of acene- and periacene-derived polymers using this novel pro-tocol. For this purpose, different symmetric quinones of acenes and per-iacenes are synthesized and functionalized using the Ramírez olefination protocol to introduce gem-dibromovinylene (=CBr2) functionalities...
Description
Tesis inédita de la Universidad Complutense de Madrid, Facultad de Ciencias Químicas, leída el 23-09-2022
Collections