Publication:
Estimulación cerebral profunda direccional en enfermedad de Parkinson guiada por parámetros neurofisiológicos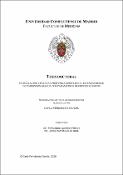 Authors
Advisors (or tutors)
Editors
Publisher
Universidad Complutense de Madrid
Abstract
La estimulación cerebral profunda del núcleo subtalámico es una herramienta terapéutica establecida y ampliamente utilizada en la Enfermedad de Parkinson avanzada. Una reciente innovación en esta técnica ha sido el desarrollo de los electrodos direccionales, que permiten dirigir la corriente de estimulación en el plano horizontal, lo que puede aumentar el umbral de estimulación de efectos adversos y ampliar la ventana terapéutica (diferencia de intensidad de corriente, en mA, entre el umbral de aparición de efectos adversos y el umbral de eficacia clínica para la rigidez). No obstante, la óptima selección de los ajustes de programación es una ardua tarea, ya que implica una revisión clínica monopolar exhaustiva y una mayor complejidad a la hora de seleccionar los parámetros de estimulación. Para aliviar estos problemas, la programación de la estimulación direccional puede guiarse por el registro intraoperatorio de oscilaciones en el rango beta (13-35 Hz) mediante los potenciales de campo local a través de los electrodos direccionales implantados...
High-frequency deep brain stimulation of the subthalamic nucleus is the preferred surgical treatment for advanced Parkinson's Disease. A recent innovation in this technique is the advent of directional leads allowing for current steering, which can increase the stimulation threshold for adverse effects and widen the therapeutic window (current different between adverse effects threshold and the efficacy for rigidity in mA). However, selecting programming settings is time consuming as it entails a thorough monopolar clinical review. To overcome this, directional stimulation programming may be guided by intraoperatively recording local field potential beta oscillations (13-35Hz) from the implanted leads...
Description
Tesis inédita de la Universidad Complutense de Madrid, Facultad de Medicina, Departamento de Medicina, leída el 18/12/2020
Collections