Publication:
Justicia sanitaria: las teorías de la justicia distributiva aplicadas al ámbito de la salud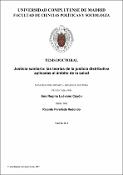 Files
Authors
Advisors (or tutors)
Editors
Publisher
Universidad Complutense de Madrid
Abstract
Con el encarecimiento de los servicios de salud -gracias a los avances tecnológicos y científicos de la biomedicina-, el aumento de la esperanza de vida y el anhelo de poder garantizar una cobertura universal de salud en la mayor parte de los países del mundo el gasto en los servicios de salud se ha incrementado de forma exponencial. Estos factores en un contexto donde los recursos son limitados han provocado que se busquen criterios equitativos de distribución y racionalización. Es por esta razón que hoy en día el tema de la salud y la asistencia sanitaria se ha convertido en el centro de muchos de los debates políticos, filosóficos y bioéticos. Precisamente, esta investigación tiene como objeto el estudio comparativo de las teorías de la justicia distributiva en materia de salud. Sin embargo, el análisis de estas teorías es complejo porque en el campo de la salud, la mayoría de las veces, la distribución de recursos responde a situaciones que implican dilemas que por lo general han sido resueltos por la bioética. En este sentido es importante mencionar que la bioética puede entenderse como un saber interdisciplinar que tiene como fin el estudio de la moralidad de las acciones humanas que inciden en la vida en general y en la vida humana en particular. Las disciplinas que colaboran a construir la bioética son la biología, la medicina, la antropología, la ética, el derecho, la ecología, la sociología y la política...
With the cost increases of healthcare services -due to technological and scientific progress in biomedicine-, the increase of life expectancy and the yearning for providing universal healthcare in most countries in the world, the expenditure incurred in healthcare services has increased exponentially. Such factors in a context where resources are limited have led to search equitable distribution and rationing criteria. This is the reason why nowadays health and healthcare services have become the core of many political, philosophical and bioethical debates. The purpose of the work herein is to carry out a comparative analysis of theories of distributive justice in healthcare matter. However, the survey of these theories is complex because most of the times, distribution of resources regarding health responds to dilemmas that have been solved with the support of bioethics. In this regard, it is important to mention that bioethics can be understood as an interdisciplinary body of knowledge whose purpose is the study of the morality of human actions which have a repercussion in life in general and in human life in particular. Disciplines that contribute to construct bioethics are biology, medicine, anthropology, ethics, law, ecology, sociology and politics...
Description
Tesis inédita de la Universidad Complutense de Madrid, Facultad de Ciencias Políticas y Sociología, leída el 16/05/2017
Collections