Publication:
Desarrollo de sistemas espectrométricos para la medida de la radiación externa ambiental y su aplicación en redes de alerta temprana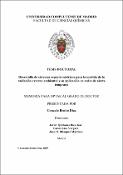 Files
Authors
Advisors (or tutors)
Editors
Publisher
Universidad Complutense de Madrid
Abstract
Desde finales del siglo XIX con el descubrimiento del fenómeno de la radiactividad gracias al "padre de la energía nuclear", Antoine-Henri Becquerel, hasta la época actual, ha acontecido más de un siglo repleto de numerosos desarrollos y avances científico-tecnológicos entorno al sector nuclear. La condición intrínseca de las radiaciones ionizantes, las cuales acompañan al sector, requiere una especial cautela ligada a unos fiables sistemas de seguridad y protección radiológica; de tal modo, que los trabajadores del sector, la población y el entorno ambiental estén a salvo de este tipo de radiaciones...
Since the end of the 19th century with the discovery of the phenomenon of radioactivity thanks to the "father of nuclear energy", Antoine-Henri Becquerel, up to the present time, a century full of numerous developments and scientific-technological advances has taken place around the nuclear sector. The intrinsic condition of the ionizing radiations, which accompany the sector, requires a special caution linked to reliable radiological protection and safety systems; in such a way, that the workers of the sector, the population and the environmental environment are safe from this type of radiation...
Description
Tesis inédita de la Universidad Complutense de Madrid, Facultad de Ciencias Químicas, Departamento de Ingeniería Química y de Materiales, leída el 30-09-2019
Collections