Publication:
One-loop quantization of rigid spinning strings in AdS3 × S3 × T 4 with mixed flux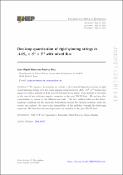 Authors
Advisors (or tutors)
Editors
Abstract
We compute the one-loop correction to the classical dispersion relation of rigid closed spinning strings with two equal angular momenta in the AdS3 × S3 × T 4 background supported with a mixture of R-R and NS-NS three-form fluxes. This analysis is extended to the case of two arbitrary angular momenta in the pure NS-NS limit. We perform this computation by means of two different methods. The first method relies on the Euler-Lagrange equations for the quadratic fluctuations around the classical solution, while the second one exploits the underlying integrability of the problem through the finite-gap equations. We find that the one-loop correction vanishes in the pure NS-NS limit.
Collections