Publication:
Un análisis del último ciclo de la Economía Española (1989-1994)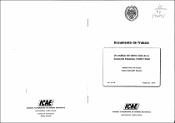 Advisors (or tutors)
Editors
Publisher
Facultad de Ciencias Económicas y Empresariales. Instituto Complutense de Análisis Económico (ICAE)
Abstract
En este trabajo se presenta un análisis del último ciclo de la economía española. El análisis se basa en la detección, caracterización, evaluación e interpretación económica de los cambios más bruscos de comportamiento, experimentados por un amplio conjunto de variables económicas. El proceso de detección, caracterización y evaluación se lleva a cabo con modelos de intervención, propuestos en Box y Tiao (1975). La interpretación de los distintos cambios en la evolución de las variables analizadas se hace desde un marco teórico común, que se explicita en un Apéndice.
In this paper we study the last Spanish economic cycle. A new approach for this kind of objective is proposed. Our procedure is based on the detection and economic rationalization of important behaviour changes in a wide set of economic variables. Both, in detecting and evaluating such changes, intervention models, as proposed in Box and Tiao (1975), are used. The economic explanation of all different changes in the behaviour of macroeconomic variables found by the numerical analysis is made within a common theoretical framework, which is summarized in an Appendix.
Citation
Alavi, A.S. y Jenkins, G.M. (1981), "Some aspects of modelling and forecasting multivariate time series", Journal of Time Series Analysis, 2, 1-47. Blanchard, O.J. (1993), "Consumption and the recession of 1990-1991", AEA Papers and Proceedings, 83, 4, 270-274. Box, G.E.P. Y G.C. Tiao (1975), "Intervention analysis with applications to economic and environmental problems", Journal of the American Statistical Association, 70, 70-79. Box, G.E.P. Y G.M. Jenkins (1976), Time Series Analysis Forecasting and Control, San Francisco: Holden Day. Diebold, F.X. y G.D. Rudebusch (1991), "Forecasting output with the composite leading index: A real time series analysis", Journal of the American Statistical Association, 86, 603-610. Dolado, J.J. y J.C. Sicilia (1995), "Explicaciones de la recesión en Europa: Una aplicación de VAR estructural", Cuadernos Económicos del ICE, Mayo. Flores, R. y A. Novales (1996), "A general test for univariate seasonality", Journal of Time Series Analysis, (en prensa). García Ferrer, A. y R. Queralt (1995), "Can univariate models forecast turning points in seasonal economic time series?", Mimeo, Universidad Autónoma de Madrid. Garcia Ferrer, A. y C. Sebastián (1995), "A business cycle characterization of the Spanish economy, 1970-95", Documento de Trabajo 9510 del ICAE. Greenwald, B.C. y J.E. Stiglitz (1987), "Imperfect information, credit markets and unemployment", European Economic Review, 31, pp. 444-456. Greenwald, B.C. y J.E. Stiglitz (1988), "Imperfect information, finance constraints and business fluctuations", en M. Kohn and S.C. Tsiang eds., Finance constraints, expectations and macroeconomics", Oxford University Press, Oxford, pp. 103-140. Greenwald, B.C. y J.E. Stiglitz (1990), "Macroeconomic models with equity and credit rationing, en R.G. Hubbard, ed., Informatíon, capital markets and investment, University of Chicago Press, Chicago, pp. 15-42. Greenwald, B.C. y J.E. Stiglitz (1993), "Financial markets imperfections and business cycles", Quaterly Journal of Economics, 108, pp. 77-114. Lahiri, K. y J.G. Wong (1994) "Predictive cyclical turning points with leading index in a Markov switching model", Journal of Forecasting, 13, 245-263. Lütkepohl, H. (1993), Introduction to Multiple Time Series Analysis, Berlin: Springer-Verlag. McNees, S.K. (1991), "Forecasting cyclical turning points: The record in the past three recessions", in Lahiri y Moore (eds.) Leading Economic Indicators: New approaches and forecasting records, Cambridge: Cambridge University Press. Sebastián, C. (1995), Notas de Macroeconomía Superior, Capítulo 6, mimeo, Servicio de Publicaciones, Facultad de Económicas, Universidad Complutense de Madrid. Sims, C.A. (1980), "Macroeconomics and reality", Econometrica, 48, 1-48. Sims, C.A. (1981), "An autoregressive index model for the U.S. 1984-1975" en J. Kmenta y J.B. Ramsey eds., Large-Scale Macro-Econometric Models, Amsterdam: North-Holland, págs. 283-327. Stock, J.H. y M.W. Watson (eds.) (1993), Business cycles, indicators and forecasting, Chicago: Chicago University Press.