Publication:
Hacia un más pleno reconocimiento de la libertad religiosa de acuerdo con las creencias del difunto en los cementerios municipales, estableciendo la colaboración forzosa de las entidades aseguradoras que practican el seguro de decesos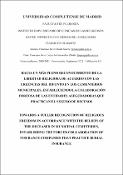 Advisors (or tutors)
Editors
Abstract
La muerte ha generado el hecho religioso y la conducta social del enterramiento. Se analiza el origen de la práctica de las exequias en la etapa primitiva de la humanidad, la política del Derecho Romano en la materia con la creación de los "Collegia Funeraticia" y su pervivencia en el tiempo en nuestro país dando origen a las hermandades y cofradías. La disputa histórica por los cementerios en el s. XX y las novedades del s. XXI, incrementa el protagonismo de la libertad religiosa en la configuración del cementerio municipal, como elemento histórico cultural, que puede ser financiado parcialmente con la ayuda del seguro de decesos que actualmente cubre a mas del 60% de la población española.
The death has generated the religious fact and the social behavior of the burial. This paper analyze the origin in practice of the funeral services in the primitive stage of the humanity, the Roman Law policy in this matter with the creation of the "Collegia Funeraticia" and his survival over the time in our country giving rise the brotherhoods and cofradias. The historic dispute over the cemeteries in the 20th century and the 21st century innovations increase the protagonist of the religious freedom in the configuration of the municipal cemetery, like an historic cultural element that could be financing partially with the support of the burial insurance that currently covers more than the 60% of the Spanish population.