Publication:
Aplicaciones informáticas para la inserción laboral de los Document Controllers en el ámbito de la Ingeniería Industrial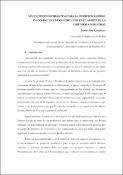 Authors
Advisors (or tutors)
Editors
Abstract
Las ingenierías industriales son una alternativa laboral para los documentalistas, puesto que en los proyectos de ingeniería se realiza una completa gestión de la documentación y control de calidad mediante softwares de gestión documental, siendo este perfil algo imprescindible. Este profesional debe tener las habilidades informáticas necesarias para acceder al mercado laboral, siendo recomendable una formación relacionada. Se ha realizado un análisis pormenorizado de las ofertas de trabajo publicadas en los tres últimos años en este entorno laboral, con el objetivo de elaborar un estudio de las necesidades del mercado y ofrecer unas directrices formativas. Se ha analizado la totalidad de ofertas de esta área en las páginas Recbib, Docuweb y Bibliojobs, desde enero de 2014 hasta enero de 2016, definiendo los softwares más solicitados y explicando brevemente sus características. Existe una preponderancia de gestores documentales como Documentum y Alfresco. Esto implica que ¬las empresas dan importancia a gestores documentales escalables e intuitivos, ya que ofrecen resultados de calidad en un entorno complejo. Aunque los gestores documentales más solicitados se reconocen por su uso intuitivo, es necesario que los profesionales de la documentación tengan una formación especializada. Lo ideal es el aprendizaje práctico en un entorno laboral, pero las dificultades en este ámbito ameritan una formación especializada; por ejemplo, mediante cursos de reciclaje profesional. También se ha observado la constante exigencia de un alto nivel de inglés. En consecuencia, se recomienda una especialización que observe ambos aspectos.
Industrial engineering is a labor alternative for documentalists, since in the engineering projects a complete management of the documentation and quality control is carried out through documentation management software, being this profile something essential. This professionals must have the necessary computer skills to enter the labor market, and a related training is advisable. It has been carried out a detailed analysis of the job offers published in the last three years in this work environment, with the objective of elaborating a study of market needs and offering training guidelines. It have been analyzed all the offers of this area in the pages Recbib, Docuweb and Bibliojobs, from January 2014 until January 2016, defining the most requested software and explaining briefly its characteristics. There is a preponderance of documentation management software such as Documentum and Alfresco. This implies that companies give importance to scalable and intuitive systems, because they offer quality results in a complex environment. Although the most requested document managers are recognized for their intuitive use, it is necessary for documentation professionals to have specialized training. Practical learning in a working environment is ideal, but difficulties in this area require specialized training; for example, through retraining courses. The constant demand for a high level of English has also been observed. Consequently, is recommended a specialization that observes both aspects.