Publication:
Caracterización de la interacción entre las proteínas XIAP y FAF1 y su implicación en las vías de apoptosis y del factor nuclear kappaB (NF-kappaB)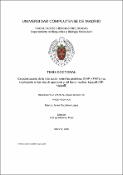 Files
Authors
Advisors (or tutors)
Editors
Publisher
Universidad Complutense de Madrid
Abstract
La apoptosis es uno de los procesos de muerte celular programada que esta estrechamente regulado por el equilibrio entre estímulos nocivos y citoprotectores. Entre los componentes celulares implicados en la citoprotección destaca la proteína XIAP, perteneciente a la familia de las proteínas inhibidoras de apoptosis, IAPs, y único miembro capaz de bloquear directamente a las caspasas efectoras 3 y 7 y a la caspasa iniciadora 9, interrumpiendo la muerte celular dependiente de caspasas. Además, XIAP promueve la expresión de genes de supervivencia mediante la inducción de la vía NF- VB. La alteración de la actividad de XIAP esta relacionada con numerosas patologías asociadas a la muerte celular programada por lo que el estudio de la modulación de XIAP permitirá comprender su papel en apoptosis y permitirá identificar posibles dianas terapéuticas para su tratamiento. En la búsqueda de nuevos reguladores que controlen su función hallamos la proteína, pro-apoptótica FAF1 que forma parte del complejo inductor de muerte celular, DISC, que interacciona tanto con el receptor Fas/CD95, como con la caspasa 8 y la proteína adaptadora FADD. Además de su función en la vía apoptótica, también es capaz de inhibir la vía prosupervivencia NF-VB. Atendiendo al papel que cumplen ambas proteínas tanto en las vías de apoptosis como de NF-VB hipotetizamos que ambas proteínas interaccionan y que esta interacción modula su actividad en estas vías. En primer lugar nuestro objetivo ha sido verificar la interacción entre XIAP y la proteína FAF1, caracterizando las regiones mínimas de esta interacción y estudiando la localización subcelular de ambas proteínas, comprobando su colocalización. Posteriormente, establecimos como objetivos: estudiar la actividad enzimática (E3 ubiquitín ligasa) de XIAP sobre FAF1; determinar el efecto de la interacción FAF1-XIAP sobre la vía apoptótica extrínseca; y evaluar la implicación funcional de la interacción FAF1-XIAP en la vía de señalización NF-VB...
Programmed cell death apoptosis is a process tightly regulated cell by the balance between deleterious and protective signals. The XIAP (X-linked chromosome IAP), a protein belonging to the Inhibitor of Apoptosis Proteins (IAPs) family, directly binds to and inhibits the upstream caspase 9, and downstream caspases 3 and 7 to prevent cell death. Besides preventing caspase-dependent cell death, XIAP also activate the NF-kB survival pathway. The disruption of XIAP expression levels is related to numerous pathologies involving disordered programmed cell death. Therefore, understanding the role of XIAP in apoptosis and its regulation by other factors will allow us to identify possible therapeutic targets for future treatments. Searching for new XIAP regulators, we found the FAF1 protein (Fas Associated Factor 1). FAF1 is a pro-apoptotic protein, which is part of the cell death complex DISC (Death Inducing Signalling Complex) interacting with Fas/CD95 death receptor, the adaptor protein FADD and the initiator caspase 8 and induces cell death. FAF1 is also able to hinder the activaction of NF-kB survival pathway. Considering the role of these proteins in apoptotic and NF-VB pathways, we hypothesize that XIAP and FAF1 interact and that this interaction regulates their actions in these signalling pathways. Our main goal was to verify the XIAP-FAF1 interaction in order to establish the minimal interaction area of the interface and to determine the subcellular localization of both proteins. We approach the functional role of XIAPFAF1 interactions studying the XIAP enzymatic activity (E3 ubiquitin ligase) on FAF1; determining the effect of the XIAP-FAF1 interaction on the extrinsic apoptotic pathway; and assessing the functional implication of the XIAP-FAF1 interaction on the NF-kB survival pathway...
Description
Tesis inédita de la Universidad Complutense de Madrid, Facultad de Ciencias Biológicas, Departamento de Bioquímica y Biología Molecular I, leída el 15-01-2016
Collections