Publication:
Radiocarbon Dates for Las Chimeneas (Cantabria, Spain) Palaeolithic Cave Art: Quality of Radiocarbon and Relevance to Parietal Art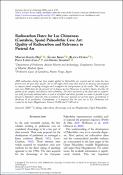 Advisors (or tutors)
Editors
Publisher
Cambridge University Press
Abstract
AMS radiocarbon dating has been widely applied in Palaeolithic art research and its value has been proven over the past three decades. Yet it still suffers from issues that need to be discussed and analysed to improve future sampling strategies and strengthen the interpretation of the results. This study presents new AMS dates for the parietal art in Cueva de Las Chimeneas in northern Spain, describes the quality of the samples, and discusses their reliability. The joint assessment of the dates and its comparison with previously obtained dates as well as stratified and dated portable art makes it possible to put forward a hypothesis about the time of creation of the cave's parietal art and the degree of synchrony or diachrony in its production. Consequently, it is proposed that the cave art at Las Chimeneas was created in the lower Magdalenian, between 19,000 and 17,500 cal BP.
La datación por radiocarbono AMS ha sido ampliamente aplicada en el estudio del arte paleolítico, y su importancia ha quedado demostrada en las últimas très décadas. No obstante, siguen existiendo problemas que deben ser discutidos y analizados para mejorar futuras estrategias de muestreo y reforzar la interpretación de los resultados. Este trabajo presenta nuevas fechas AMS para el arte parietal de la Cueva de Las Chimeneas en el norte de España, describiendo la calidad de las muestras y discutiendo su fiabilidad. La puesta en común de las fechas y su comparación con dataciones previas, así como con el arte mueble datado y contextualizado, permite formular hipótesis sobre el periodo de creación del arte parietal de la cueva y el grado de sincronía o diacronía de su producción. En consecuencia, se propone que el arte de Las Chimeneas fue creado durante el Magdaleniense inferior, entre 19,000 y 17,500 cal BP.
Description
CRUE-CSIC (Acuerdos Transformativos 2022)
Collections