Publication:
Initial stages of the growth of mixed iron-cobalt oxides on Ru(0001)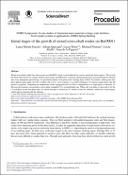 Advisors (or tutors)
Editors
Abstract
Mixed iron-cobalt oxides have been grown on a Ru(0001) single crystal substrate by reactive molecular beam epitaxy. The growth has been followed by low-energy electron microscopy and diffraction. Chemical characterization has been performed by selected area x-ray absorption spectroscopy. As previously known, iron grows into a wetting layer of FeO. In contrast, cobalt grows into three-dimensional islands of CoO, of either with a (111) –most common-or a (100) orientation. For mixed compositions, flat 2D growth is regained. Depending on temperature, either segregation into two FeCo compositions or a single phase is detected. In all cases the structure corresponds to an in-plane expanded (111)-oriented halite one. When only one phase is observed or for the Co-rich phase in the two phase film, its crystal structure is rotated by 30. relative to the Ru substrate, unlike the Co-poor phase which appears aligned with the substrate.
Description
© 2016 The Authors. Published by Elsevier B.V. This is an open access article under the CC BY-NC-ND license. Conferencia: E-MRS Spring Meeting / Symposium CC on In Situ Studies of Functional Nano Materials at Large Scale Facilities - From Model Systems to Applications (2016. Lille, Francia). This work is supported by the Spanish Ministry of Economy and Competitiveness through Projects No. MAT2015- 64110-C2-1-P, MAT2015-64110-C2-2-P and MAT2013-48009-C4-1-P. These experiments were performed at the CIRCE beamline of the ALBA Synchrotron Light Facility with the collaboration of ALBA staff.
Collections