Publication:
Alto torque de inserción en implantología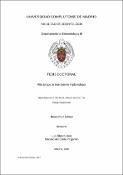 Files
Authors
Advisors (or tutors)
Editors
Publisher
Universidad Complutense de Madrid
Abstract
El aumento del torque de inserción permite mejoras en la estabilidad primaria. Inherente al aumento en la estabilidad primaria se encuentra la posibilidad de realizar carga inmediata en la práctica clínica. Si tenemos en cuenta estos dos factores y su relación podríamos decir que si conseguimos estabilidad primaria suficiente podríamos realizar carga inmediata de forma rutinaria sin comprometer la osteointegración, siempre que se respeten determinados factores imprescindibles dentro de nuestros protocolos quirúrgicos. La bibliografía existente en relación al alto torque y un inadecuado comportamiento del remodelado óseo no es concluyente. A pesar de que estos conceptos son ampliamente aceptados en la literatura, son muy pocos los estudios que han publicado la veracidad de estas hipótesis. De acuerdo a Duyck J y cols. 2010 existe mayor pérdida ósea marginal en implantes insertados a 50 Ncm. Sin embargo Meltzer A y cols. indican que no existe evidencia científica para apoyar la afirmación de que altos niveles de torque generan necrosis ósea por sobrecompresión, concluyendo además que un alto torque puede proporcionar mejoras sustanciales en los protocolos quirúrgicos tradicionales, así como en la práctica clínica de carga inmediata...
An increase in insertion torque improves primary stability. Inherent to the increase in primary stability is the possibility of immediate dental implant loading in clinical practice. If we remain cognizant of these 2 factors and their relationship, we could routinely immediately load dental implants without compromising osseointegration if we first achieve sufficient primary stability. This would occur if one adheres to the remaining indispensable elements of our surgical protocol. Existing literature regarding high torque and inadequate bone remodelling behaviour is inconclusive. Although these concepts are widely accepted in the literature, very few published studies have discussed this hypothesis. According to Dyuck J et al. 2010, there is higher marginal bone loss in implants inserted to 50 Ncm. Nevertheless, Meltzer A et al. indicates that there is no scientific evidence to support the assertion that high torque levels generate bone necrosis by overcompression. Meltzer A et al. also concludes that high torque can provide substantial improvements in traditional surgical protocols and in immediate loading in clinical practice...
Description
Tesis inédita de la Universidad Complutense de Madrid de la Facultad de Odontología del Departamento de Estomatología III, leída el 5 de Julio de 2017
Collections