Publication:
MASSIS: Multi-agent system simulation of indoor scenarios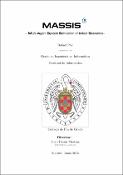 Authors
Advisors (or tutors)
Editors
Abstract
Testing applications for smart environments is a difficult task. It requires the installation of sensors and actuators, the communications and the software for the control system, and the participation of people playing different scenarios. This is costly, both in economic sense as well as in time. Also, there are some situations that cannot be tested for practical reasons (such as emergencies). The use of simulation tools that provide some support for the development of smart environment applications is interesting, at least for these reasons. One of the most relevant aspects to be considered in this kind of tests is the human and social behavior of individuals when simulating how people interact with their environment, including other individuals. If the simulation framework has to be used for different purposes and by other developers, it should have a clear agent model, with some support for the design at a higher level of abstraction that can be easily translated to an implementation. This is the main purpose of MASSIS (Multi-agent system simulation of InDoor Scenarios), an efficient framework for modeling and simulation of the decision-making process of agents in multiple situations in indoor scenarios domain. It extends the SweetHome3D environment with plugins for linking agent's behavior in the simulation. Other functionality provided by MASSIS is the ability to visualize the simulation in 2D and 3D, and a rich log capability, which can be the basis for further analysis of the scenarios.
Las pruebas de aplicaciones para entornos inteligentes son una tarea difícil. Requieren de la instalación de sensores y actuadores, los sistemas de comunicación, software de control y la participación de personas representando diferentes roles. Esto es costoso, tanto en tiempo como en sentido económico. Además, existen muchas situaciones que, por razones prácticas, resultan bastante complicadas de probar (situaciones de emergencia, por ejemplo). Las herramientas de simulación pueden servir de considerable ayuda para el desarrollo de entornos inteligentes. Uno de los aspectos más relevantes a tener en cuenta en este tipo de pruebas es el comportamiento humano y social de los individuos, cuando se simula la forma de cómo las personas interactúan con su entorno, incluyendo otros individuos. Si se utiliza un framework de simulación multiagente para estos propósitos, debe constar de un modelo claro de agente, cuyos métodos de razonamiento puedan ser diseñados desde un nivel de abstracción más alto, que pueda transformarse en una implementación de forma sencilla. Éste es uno de los propósitos principales de MASSIS (Multi-agent system simulation of InDoor Scenarios), un framework de simulación multiagente eficiente que permite el modelado y la simulación de los procesos de toma de decisiones de los agentes en múltiples situaciones en el dominio de espacios interiores. Extiende las capacidades de SweetHome3D con ciertos plugins que permitan definir el comportamiento de los agentes en el entorno de la simulación. Otras funcionalidades que ofrece MASSIS son las visualizaciones 2D y 3D de la simulación, la capacidad de guardar las simulaciones para su posterior reproducción y análisis.
Description
Trabajo de Fin de Grado en Ingeniería Informática (Universidad Complutense, Facultad de Informática, curso 2014/2015)