Publication:
Diseño e implementación de actualizaciones Over The Air (OTA) para redes de sensores inalámbricas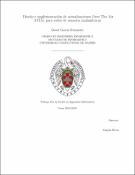 Authors
Advisors (or tutors)
Editors
Abstract
El objeto de este trabajo es el estudio de la viabilidad de las actualizaciones de firmware Over The Air (OTA) utilizando una red LPWAN, en concreto LoRaWAN. Dar soporte para actualizaciones de firmware OTA a día de hoy resulta fundamental y más todavía cuando estos nodos se encuentran en lugares remotos o sitios donde el acceso es muy limitado o peligroso. Tener implementada la funcionalidad para actualizaciones vía OTA permite corregir errores o añadir nuevas funcionalidades a distancia. Uno de los objetivos prioritarios consiste en que la misma actualización pueda llegar a un conjunto de nodos a la vez evitando tener que actualizar los nodos uno por uno, ya que esto supondría el envío de gran cantidad de información duplicada. Para llevar a cabo esta tarea, se ha realizado un estudio en profundidad sobre las características y el funcionamiento de la red LoRaWAN teniendo en cuenta que las redes LPWAN en general dificultan llevar a cabo este tipo de actualizaciones debido a sus conocidas limitaciones en cuanto a tamaño de payload y elevada latencia. Finalmente, este trabajo demuestra la viabilidad de las OTA mediante la aplicación de parches de actualización de firmware a conjuntos de nodos.
The aim of this work is the study of the feasibility of firmware updates Over The Air (OTA) using an LPWAN network, specifically LoRaWAN. Supporting OTA firmware updates today is essential and especially when these nodes are located in remote places or places where access is very limited or dangerous. Having the functionality implemented for updates via OTA allows correcting errors or adding new functionalities remotely. One of the priority objectives is that the same update can reach a set of nodes at the same time, avoiding having to update the nodes one by one, since this would mean sending a large amount of duplicate information. To carry out this task, an in-depth study has been carried out on the characteristics and operation of the LoRaWAN network, considering that LPWAN networks in general are not the most suitable networks to carry out this kind of updates due to their known limitations in terms of payload size and high latency. Finally, this work demonstrates the viability of the OTA by applying firmware update patches to node sets.
Description
Trabajo de Fin de Grado, Universidad Complutense, Facultad de Informática, Departamento de Arquitectura de Computadores y Automática, Curso 2018/2019