Publication:
Alteraciones asociadas a los paleosuelos de las areniscas de Villamayor (Salamanca)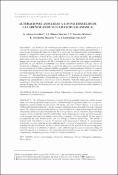 Advisors (or tutors)
Editors
Abstract
Las Areniscas de Villamayor presentan un carácter cíclico, manifestado por la sucesión de secuencias granodecrecientes organizadas en una megasecuencia granocreciente al ir aumentando el tamaño del clasto en la base de la secuencia. Las características sedimentológicas, indican un dispositivo sedimentario fluvial trenzado de arenas con caidas cíclicas de energía, avulsiones frecuentes y relleno de los canales abandonados, en varios episodios, desarrollándose paleuelos sobre las fracciones más finas de la secuencia. Las direcciones de paleocorrientes abogan por aportes procedentcs del SE y drenando un área madre de bajo rango metamórfico y granitoide, lo que confiere al sedimento un carácter fuertementes arcósico. En cada una de las secuencias litológicas se desarrolla un perfil de alteración confirmado por a) un proceso de encostramiento en el techo (nódulos aislados, agrupados y encostramientos difuso); b) aparecer reorientaciones del plasma arcilloso acompañadas de neoformaciones argílicas, y c) tener una intensa actividad orgánica (bioturbaciones). Este perfil de alteración se caracteriza, de muro a techo, por presentar: lº .- disminución del porcentaje de feldespatos: 2º.- acumulación progresiva de dolomita en forma de encostrameento carbonatado que reemplaza al material arcósico y 3º.- aumento de palygorskita. coincidiendo su máximo con el de la dolomita. Todo ello indica que la génesis de la secuencia de alteración está relacionada: a) con movomientos de los niveles freáticos próximos a arterias de agua (base de la secuencia) y b) con los procesos de generación de suelo ligados a la estacionalidad del clima. [ABSTRACT] The Villamayor Sandstones consits of fining upwards sequences which, in turn, form a coarsening upwards megasequence. Scdimentological arguments point out to a genesis related to a sandy braided fluvial system with cyclic variations of flow velocity, avulssions and infilling of abandonedchannels with development of paleosoils between different stages (grained terms). The pattern of paleocurrents and heavy minerals indicate drainage of low range metamorphic and granitic source area placed toards the SE which produced arkosic sediments. Each lithologic sequence shows an alteration profile confined by: (a) crusting processes at the top of the sequence (with grouped and scattered nodules and diffuse cruting); (b) reorientaton of clay plasma accompanied by clay neoformations and (c) biological activity (burroging). The profile is characterized, from bottom to top, by: 1º. decrease of the percentage of feldspar; 2º.- accumulation of dolomite as crust replacing arkosic sediment and 3º. increase of palygorskite, with a maximum matching the one of dolomite. All these feature indicate that the genesis of the weathering profile probably related to oscillations of phreatic water table through the coarse sediments filling the narrowlyspaced active channels which produced transformations due to water circulation and, independently, pedogenic plocesses related to a climatic seasonality.
Collections