Publication:
Star-Forming Galaxies at z~0.61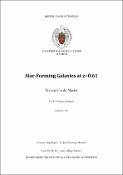 Files
Authors
Advisors (or tutors)
Editors
Abstract
In this work we have studied a sample of 41 galaxies with active star formation at z ∼ 0.61 selected by their emission in Halpha in ultradeep images (32h exposure time) taken with a narrow-band filter in the near-infrared with HAWK-I instrument on the VLT. The aim is to characterize the physical and global properties of this sample of galaxies. We have calculated the luminosity function, getting the deepest determination of the alpha parameter to date, and the star formation rate density of the universe at z ~ 0.61. We have studied the relations between extinction and star formation rate (SFR) and between SFR and stellar mass in the sample. We have performed a morphological and spectroscopical classification of the objects.
Description
Sample Web Page: http://guaix.fis.ucm.es/node/1586
Citation
Aihara, H., Allende Prieto, C., An, D., et al. 2011, ApJS, 193, 29 An, F. X., Zheng, X. Z., Wang, W.-H., et al. 2014, ApJ, 784, 152 Baldwin, J. A., Phillips, M. M., & Terlevich, R. 1981, PASP, 93, 5 Balestra, I., Mainieri, V., Popesso, P., et al. 2010, A&A, 512, A12 Barro, G., Pérez-González, P. G., Gallego, J., et al. 2011, ApJS, 193, 13 Beckwith, S. V. W. 2005, VizieR Online Data Catalog, 2258, 0 Buat, V., Iglesias-Páramo, J., Seibert, M., et al. 2005, ApJ, 619, L51 Calzetti, D., Armus, L., Bohlin, R. C., et al. 2000, ApJ, 533, 682 Clément, B., Cuby, J.-G., Courbin, F., et al. 2012, A&A, 538, A66 Cowie, L. L., Songaila, A., Hu, E. M., & Cohen, J. G. 1996, AJ, 112, 839 Dahlen, T., Mobasher, B., Dickinson, M., et al. 2010, ApJ, 724, 425 Doherty, M., Bunker, A., Sharp, R., et al. 2006, MNRAS, 370, 331 Fukugita, M., Shimasaku, K., & Ichikawa, T. 1995, PASP, 107, 945 Gallego, J., Zamorano, J., Aragón-Salamanca, A., & Rego, M. 1995, ApJ, 455, L1 Gallego, J., Zamorano, J., Rego, M., & Vitores, A. G. 1997, ApJ, 475, 502 Geach, J. E., Smail, I., Best, P. N., et al. 2008, MNRAS, 388, 1473 Glazebrook, K., Blake, C., Economou, F., Lilly, S., & Colless, M. 1999, MNRAS, 306, 843 Gómez Guijarro, C. 2013, e-print UCM, Cod 23208, TAD Grogin, N. A., Kocevski, D. D., Faber, S. M., et al. 2011, ApJS, 197, 35 Guo, Y., Ferguson, H. C., Giavalisco, M., et al. 2013, ApJS, 207, 24 Guzmán, R., Gallego, J., Koo, D. C., et al. 1997, ApJ, 489, 559 Hopkins, A. M., & Beacom, J. F. 2006, ApJ, 651, 142 Hopkins, A. M., Connolly, A. J., & Szalay, A. S. 2000, AJ, 120, 2843 Kantowski, R., Kao, J. K., & Thomas, R. C. 2000, ApJ, 545, 549 Kennicutt, R. C., & Evans, N. J. 2012, ARA&A, 50, 531 Kennicutt, Jr., R. C. 1998, ARA&A, 36, 189 Kissler-Patig, M., Pirard, J.-F., Casali, M., et al. 2008, A&A, 491, 941 Koekemoer, A. M., Faber, S. M., Ferguson, H. C., et al. 2011, ApJS, 197, 36 Le Fèvre, O., Vettolani, G., Paltani, S., et al. 2004, A&A, 428, 1043 Luo, B., Bauer, F. E., Brandt, W. N., et al. 2008, ApJS, 179, 19 Madau, P., & Dickinson, M. 2014, ArXiv e-prints, arXiv:1403.0007 Madau, P., Ferguson, H. C., Dickinson, M. E., et al. 1996, MNRAS, 283, 1388 Moles, M., Benítez, N., Aguerri, J. A. L., et al. 2008, AJ, 136, 1325 Moorwood, A. F. M., van der Werf, P. P., Cuby, J. G., & Oliva, E. 2000, A&A, 362, 9 Muñoz-Mateos, J. C., Gil de Paz, A., Boissier, S., et al. 2009, ApJ, 701, 1965 Noeske, K. G., Weiner, B. J., Faber, S. M., et al. 2007, ApJ, 660, L43 Pascual, S. 2005, PASP, 117, 120 Pascual, S., Gallego, J., Aragón-Salamanca, A., & Zamorano, J. 2001, A&A, 379, 798 Pascual, S., Gallego, J., & Zamorano, J. 2007, PASP, 119, 30 Pérez-González, P. G., Zamorano, J., Gallego, J., Aragón-Salamanca, A., & Gil de Paz, A. 2003, ApJ, 591, 827 Pérez-González, P. G., Rieke, G. H., Egami, E., et al. 2005, ApJ, 630, 82 Pettini, M., Shapley, A. E., Steidel, C. C., et al. 2001, ApJ, 554, 981 Rodighiero, G., Daddi, E., Baronchelli, I., et al. 2011, ApJ, 739, L40 Schechter, P. 1976, ApJ, 203, 297 Schiminovich, D., Ilbert, O., Arnouts, S., et al. 2005, ApJ, 619, L47 Schlafly, E. F., & Finkbeiner, D. P. 2011, ApJ, 737, 103 Schmidt, M. 1968, ApJ, 151, 393 Siebenmorgen, R., Carraro, G., Valenti, E., et al. 2011, The Messenger, 144, 9 Sobral, D., Best, P. N., Matsuda, Y., et al. 2012, MNRAS, 420, 1926 Sullivan, M., Treyer, M. A., Ellis, R. S., et al. 2000, MNRAS, 312, 442 Tresse, L., & Maddox, S. J. 1998, ApJ, 495, 691 Tresse, L., Maddox, S. J., Le F`evre, O., & Cuby, J.-G. 2002, MNRAS, 337, 369 Vanzella, E., Cristiani, S., Dickinson, M., et al. 2008, A&A, 478, 83 Veilleux, S., & Osterbrock, D. E. 1987, ApJS, 63, 295 Villar, V., Gallego, J., Pérez-González, P. G., et al. 2008, ApJ, 677, 169 Whitaker, K. E., van Dokkum, P. G., Brammer, G., & Franx, M. 2012, ApJ, 754, L29 Yan, L., McCarthy, P. J., Freudling, W., et al. 1999, ApJ, 519, L47