Publication:
La monodia litúrgica entre los siglos Xv y XIX. Tradición, transmisión y praxis musical a través del estudio de los libros de coro de la catedral de Segovia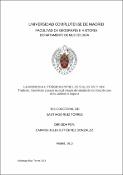 Files
Authors
Advisors (or tutors)
Editors
Publisher
Universidad Complutense de Madrid
Abstract
NOTA 520 8 Esta Tesis doctoral persigue delinear una panorámica de la monodia litúrgica entre los siglos XV y XIX. Para su realización nos hemos apoyado preferentemente en el estudio y análisis de sus fuentes; en nuestro caso, representadas por la librería coral de la catedral de Segovia. Un segundo pilar, de no menor importancia, se asienta en los comentarios de la tratadística musical contemporánea. Al objeto de proporcionar una exposición lo más rigurosa y comprehensiva posible, se sigue un método claramente interdisciplinar, basado en la utilización conjunta de fuentes documentales, historiográficas y litúrgico-musicales. Su desarrollo se estructura en dos partes, división acorde al número de volúmenes. La primera parte coincide, en propiedad, con la exposición del tema, en tanto que la segunda recoge el catálogo e índices de los libros de coro segovianos, más un par de apéndices. Cuatro son los bloques, a su vez, sobre los que se articula el desarrollo principal. En el primero establecemos las coordenadas historiográficas, sociales y culturales por las que transcurrió la elaboración de los cantorales sujetos a estudio. La Iglesia de Segovia, en calidad de poseedora de los libros, será foco de atención prioritaria. Los bloques segundo y tercero se consagran respectivamente al análisis de los corpus de canto llano común y canto mixto o figurado; esto es, el canto monódico con trazas mensurales. A lo largo de su exposición examinaremos ambos repertorios desde múltiples enfoques: delimitación terminológica, escritura musical, transmisión melódica, comportamiento modal y nueva composición, entre otros. Finalmente, el cuarto bloque presenta como leitmotiv la praxis del canto litúrgico dentro de la franja temporal delimitada. Dentro del mismo, se profundiza en torno a una serie de variables con honda repercusión sobre la actio canendi; conviene a saber, los protagonistas encargados de su entonación, la dimensión acústico-espacial de los libros corales, el cuidado del texto sacro, la ejecución rítmica y el acompañamiento instrumental de la monodia. ABSTRACT. This doctoral thesis attempts to outline an overview of liturgical monophony between the fifteenth and the nineteenth century. For its realization we have based mostly on the study and analysis of its sources; in our case, represented by the plainchant choirbooks of the Segovia cathedral. The second, and no less important, source is the contemporary musical literature. In order to present it as rigorously and comprehensively as possible, we employ an interdisciplinary method based on the observation of archival, historiographical and liturgical-musical sources. Its development is structured in two parts, a division following the number of volumes. The first part is, in essence, the exposure of the subject, while the second includes the catalogue and indexes of the Segovian books as well as a pair of appendixes. The main development is articulated, in turn, in four parts. In the first one, we establish the historiographical, social and cultural coordinates which influenced the elaboration of the choral collection. The Church of Segovia, as owner of the books, is the focus of special attention. The second and the third part are dedicated respectively to the analysis of the corpus of common plainsong and the canto fratto; that is, the plainchant with mensural elements. Throughout its exposition we examine both repertoires from multiple perspectives: terminological approach, musical notation, melodic transmission, modal behaviour and new composition, among others. Finally, the fourth part presents as leitmotiv the performance of the liturgical chant in the period under investigation. Within it, we analyze a series of variables with a deep impact on the actio canendi: the singers responsible for its intonation, the acoustic and space dimension of the choirbooks, the care of the sacred text, the rhythmic practice and the instrumental accompaniment of the monophony.
Description
Tesis inédita de la Universidad Complutense de Madrid, Facultad de Geografía e Historia, Departamento de Musicología, leída el 27/05/2013
Collections