Publication:
Bacterioma de la leche humana y de rumiantes. Relación con factores ambientales, bioquímicos e inmunológicos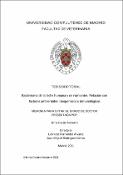 Authors
Advisors (or tutors)
Fernández Álvarez, Leónides
Editors
Publisher
Universidad Complutense de Madrid
Abstract
La leche materna se caracteriza por su compleja composición, aportando al lactante macronutrientes, micronutrientes y numerosos compuestos bioactivos, incluyendo factores inmunológicos, hormonas, oligosacáridos (HMOs; del inglés Human Milk Oligosaccharides), nucleótidos y enzimas, que garantizan su correcto crecimiento y desarrollo. Además, la leche materna posee una microbiota propia que tiene un papel importante en la colonización del tracto gastrointestinal y en la maduración del sistema inmunitario. Por otro lado, la composición de la leche materna es flexible y se adapta en cada momento a las necesidades del lactante. La leche materna es la mejor forma de alimentación durante los primeros meses de la vida debido a los numerosos beneficios que aporta a la pareja madre-hijo. Sin embargo, también puede ser una fuente de contaminantes químicos procedentes del ambiente, de la dieta, de los hábitos tóxicos o del uso de cosméticos. En general, se trata de compuestos lipofílicos que se acumulan en el tejido adiposo de las mujeres a lo largo de su vida y que se movilizan durante el embarazo y la lactancia; en consecuencia, la leche puede ser una vía de exposición para los lactantes. No obstante, la leche humana puede contener microorganismos con capacidad para adsorber o metabolizar ese tipo de compuestos, minimizando su absorción en el tracto gastrointestinal del lactante...
Breast milk is characterized by its complex composition, providing the infant with macronutrients, micronutrients and numerous bioactive compounds, including immune factors, hormones, oligosaccharides, nucleotides and enzymes, which contribute to a correct growth and development. In addition, breast milk has its own microbiota that plays an important role in the colonization of the gastrointestinal tract and in the maturation of the immune system. On the other hand, the composition of breast milk is flexible and adapts according to the changing needs of the infant.Breast milk is the best form of nutrition during the first months of life due to the many benefits it brings to the mother-child couple. However, it can also be a source of pollutants from the environment, diet, toxic habits or the use of cosmetics. In general, these are lipophilic compounds that accumulate in the adipose tissue of women throughout their lives and are mobilized during pregnancy and lactation; consequently, milk may be a route of exposure for infants. However, human milk may contain microorganisms with the capacity to adsorb or metabolize these types of compounds, minimizing their absorption in the infant's gastrointestinal tract...
Description
Tesis inédita de la Universidad Complutense de Madrid, Facultad de Veterinaria, Departamento de Nutrición y Ciencia de los Alimentos, leída el 19-07-2021
Collections