Publication:
El campamento de Moyapán (Ayande, Asturias)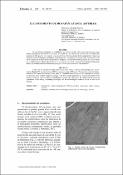 Advisors (or tutors)
Editors
Abstract
En este trabajo presentamos los resultados de los trabajos iniciales relacionados con este nuevo yacimiento arqueológico descubierto en el concejo de Ayande (SO de Asturias) en junio de 2007: el recinto campamental de Moyapán. El sitio muestra unas características formales propias de los campamentos romanos ya conocidos del área cantábrica circundante. Exponemos dos vías interpretativas principales (campamento militar de campaña en el marco de las operaciones de conquista y control del territorio por parte del ejercito romano; o establecimiento militar relacionado con la exploración, el control y la puesta en explotación del paisaje minero circundante) con las evidencias arqueológicas con las que contamos en este momentos. [ABSTRACT]In this work we present the results of the initial works related to this new archaeological site discovered in Allande (SW Asturias) in June, 2007: the enclosure camp of Moyapán. The site shows a formal characteristics of the Roman forts already known about the Cantabrian surrounding area. We expound two interpretive principal ways (military camp of campaign in the frame of the operations of conquest and control of the territory by Roman army; or military establishment related to the exploration, the control and the putting in exploitation of the mining surrounding landscape) with the archaeological evidences which we have at the moment.
Collections