Publication:
YHWH, ¿dios de la tormenta?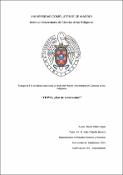 Authors
Advisors (or tutors)
Editors
Abstract
El presente trabajo tiene por objetivo averiguar las características más antiguas que tuvo YHWH entre sus primeros adoradores y determinar en qué tipología de divinidad se le puede ubicar, si en la de las divinidades de la tormenta o en otra diferente. Para ello, se tendrán en cuenta un gran elenco de documentos bíblicos y extrabíblicos, de testimonios arqueológicos y epigráficos y el fondo cananeo, sin el cual no se puede discutir ningún aspecto de la religión israelita. Se utilizará como perspectiva teórico-metodológica el enfoque de la Historia de las Religiones, según el cual los hechos religiosos son hechos culturales, ni intemporales ni eternos, inscritos en un marco histórico que permite en su mayoría su comprensión. Por ello, en cada uno de los apartados de este trabajo se incluirá un contexto histórico y geográfico que permitirá un mejor entendimiento de las características originales de YHWH, de su evolución y de la religión en la que esta divinidad se inserta.
The main aim of the present work is to discover the most ancient features of YHWH between their first worshippers and to determine in which typology of divinity it is possible to locate him, if in the typology of the Storm-Gods or in different other one. That´s the reason why there will be born in mind a great index of Biblical and non-Biblical documents, archaeological and epigraphic sources and the Canaan´s background, without which it is not possible to discuss any aspect of the Israelite religion. There will be in use as theoretical - methodological perspective the approach of the History of Religions, according to which religious facts are cultural facts, neither timeless nor eternal, recruits in a historical frame which let most of times their comprehension. For that reason, in each of the paragraphs of this work it will be included a geographical and historical framework which allow a better comprehension of the original characteristics of YHWH, of his development and of the religion in which this divinity is inserted.