Publication:
Democracia y universidad: patologías de un desgobierno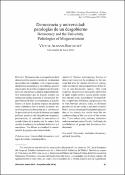 Authors
Advisors (or tutors)
Editors
Publisher
CSIC. Instituto de Filosofía
Abstract
Diversas teorías contemporáneas de la democracia han puesto el acento en las tensiones que produce al ciudadano vivir en una comunidad política democrática y, sin embargo, pasar la mayor parte de su vida en espacios no democráticos. En este trabajo se analiza el persistente déficit democrático que en España arrastra una institución pública especial, la universidad. Según Thomas Hobbes la competencia, la desconfianza y el deseo de gloria originan las guerras entre ciudadanos; hoy se asume de manera natural su presencia dominante en la universidad. Se procederá así al estudio de diversas patologías políticas producto del desgobierno originado, precisamente, al confundir de esta manera el sentido último de la institución. Se trataría de la envidia, la calumnia, la ambición destructiva y el narcisismo. Por último se estudiará la conformación de grupos como hermandades.
Diverse contemporary theories of democracy have put the emphasis on the tensions that arise for citizens who live in a democratic community and yet spend most of their lives in non-democratic spaces. This work examines the persistent democratic deficit that in Spain weighs down a special public institution, the university. According to Thomas Hobbes, competition, diffidence, and glory give rise to wars between citizens; today, its dominant presence in the university is assumed naturally. Here I analyze diverse political pathologies product of the misrule that results from this misunderstanding of the last sense of the institution. These include envy, calumny, destructive ambition and narcissism. Finally, I will study the establishment of groups that function as brotherhoods.
Collections