Publication:
The biota of the Upper Cretaceous site of Lo Hueco (Cuenca, Spain)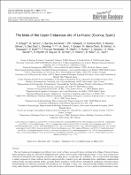 Advisors (or tutors)
Editors
Publisher
Universidad Complutense de Madrid
Abstract
The Late Cretaceous (Campanian-Maastrichtian) fossil site of Lo Hueco was recently discovered close to the village of Fuentes (Cuenca, Spain) during the cutting of a little hill for installation of the railway of the Madrid-Levante high-speed train. To date, it has yielded a rich collection of well-preserved Cretaceous macrofossils, including plants, invertebrates, and vertebrates. The recovered fossil assemblage is mainly composed of plants, molluscs (bivalves and gastropods), actinopterygians and teleosteans fishes, amphibians, panpleurodiran (bothremydids) and pancryptodiran turtles, squamate lizards, eusuchian crocodyliforms, rhabdodontid ornithopods, theropods (mainly dromaeosaurids), and titanosaur sauropods. This assemblage was deposited in a near-coast continental muddy floodplain crossed by distri-butary sandy channels, exposed intermittently to brackish or marine and freshwater flooding as well as to partial or total desiccation events.
El yacimiento paleontológico de Lo Hueco fue descubierto recientemente en niveles del Cretácico Superior (Campaniense-Maastrichtie- nese) cerca de la localidad de Fuentes (Cuenca, España) durante el desmonte de una pequeña colina para la instalación de las vías del acceso ferroviario de alta velocidad Madrid-Levante. Hasta la fecha, el yacimiento ha proporcionado una abundante colección de macrofósiles cre- tácicos en buen estado de preservación que incluye plantas, invertebrados y vertebrados. El conjunto de animales representados se compone principalmente de moluscos (bivalvos y gasterópodos), peces actinopterigios y teleósteos, anbios, tortugas panpleurodiras (botremídidos) y pancryptodiras, lagartos, crocodiliformes eusuquios, ornitópodos rhabdodóntidos, terópodos (principalmente dromeosáuridos) y sauró- podos titanosaurios. Este conjunto se acumuló en un ambiente sedimentario correspondiente a una llanura de inundación fangosa cercana a la costa atravesada por canales distribuidores, expuesta de forma intermitente a condiciones salobres, marinas o dulceacuícolas, así como a eventos parciales o totales de desecación. El Konzentrat-Lagerstatt de Lo Hueco constituye una acumulación singular de fósiles que representan individuos de algunos linajes de tetrápodos continentales, particularmente titanosaurios, eusuquios y bothremididos. En el caso de los titanosaurios, el yacimiento ha pro- porcionado varios esqueletos parciales en conexión anatómica o con baja dispersión de sus elementos. La biota de Lo Hueco está compuesta por una combinación de nuevos taxones, nuevas citas para la Península Ibérica y taxones relativamente comunes en el ámbito europeo. Estas condiciones particulares, los resultados preliminares indican que el análisis del contexto geológico, el contenido de ora y fauna y las características tafonómicas del yacimiento son especialmente útiles para reevaluar la historia evolutiva de algunos linajes de reptiles del Cretácico Superior europeo.
Collections