Publication:
La mujer en Galicia a través del NO-DO (1943-1957)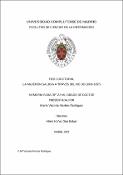 Files
Advisors (or tutors)
Editors
Publisher
Universidad Complutense de Madrid
Abstract
El presente trabajo es el resultado de la investigación sobre la imagen de la mujer en Galicia en el ente público NO-DO (Noticiarios y Documentales) durante el periodo 1943, año de su creación, y 1957. Su objetivo es el de contribuir al conocimiento de la situación de la mujer en Galicia durante esta etapa de la dictadura franquista, un régimen con una específica política respecto del colectivo femenino. NO-DO buscaba reforzar la tarea informativo-propagandística del resto de los medios de comunicación, contando con una importante ventaja sobre los demás al utilizar las imágenes como medio de comunicación con la sociedad. La imagen se convierte así en un medio útil para la propaganda pero también en una fuente inestimable de realidad. Se ha empleado una metodología de análisis de los contenidos audiovisuales contextualizados en su marco histórico, acompañándolos con el estudio de fuentes periodísticas, fotográficas, archivísticas o memorialistas. El análisis de la mujer en Galicia se ha enmarcado tanto en su contexto geográfico, Galicia, como temático, la política de género de la dictadura franquista. Se han analizado el conjunto de las imágenes del NO-DO gallego así como las referidas a las mujeres españolas. De esta visión de conjunto hemos podido extraer conclusiones que sitúan a la mujer gallega en el marco de su época y su territorio vital. El visionado nos ha permitido comprobar el papel protagonista del dictador en las imágenes tomadas en su tierra natal, siempre con el objetivo de contribuir a su legitimación y a la propagación de sus logros...
This research has to do with women in Galicia through the NO-DO (Newscasts and Documentaries) during the period 1943, the year of its creation, until 1957. The objective is to contribute to the knowledge of the situation of women in Galicia during this stage of the Franco dictatorship, a regime with a specific policy regarding women. NO-DO sought to reinforce the informative and propaganda task of the rest of the media, with the advantage of prioritizing images as a means of communication with society. The image thus becomes a useful medium for propaganda but also an invaluable source of reality. A methodology has been used for the analysis of audio-visual content contextualized in its historical setting, accompanying them with the study of journalistic, photographic, archival or memorial sources. The analysis of women in Galicia has been framed both in its geographical context, Galicia, and thematic, the gender policy of the Franco dictatorship. All the images of the Galician NO-DO as well as those referring to Spanish women have been analysed. From this overall vision we have been able to draw conclusions that place Galician women within the framework of their time and their vital territory...
Description
Tesis inédita de la Universidad Complutense de Madrid, Facultad de Ciencias de la Información, leída el 21-04-2022
Collections